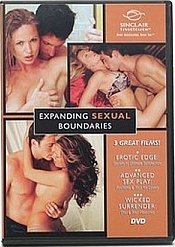 Sinclair Intimacy Institute Expanding Sexual Boundaries DVD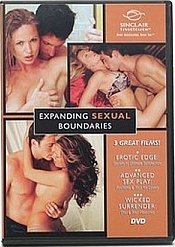 Sinclair Intimacy Institute Expanding Sexual Boundaries DVD
Must be 18 years of age or older to purchase.Explore New Turn-ons That Will Keep Your Sex Life Endlessly Satisfying!
These three exciting programs show the incredible pleasure that awaits you and your lover when you cast aside restrictive inhibitions to experience new turn-ons!  From learning imaginative oral sex techniques to enjoying the wicked passion or erotic power play...Proven techniques for intense G spot stimulation...Toys to maximize make and female sexual sensations and exciting new positions that sizzle, these videos will help both of you reach the ultimate level of sexual arousal, pleasure and satisfaction!  Watch today and build a stronger bond with your lover for the best sex of your life!
3 Great Films!
Erotic Edge: Secrets to Ultimate Satisfaction
* These statements have not been evaluated by the Food and Drug Administration. This product is not intended to diagnose, treat, cure, or prevent any disease.