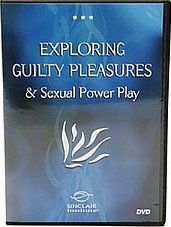 Sinclair Intimacy Institute Enjoying Guilty Pleasures, DVD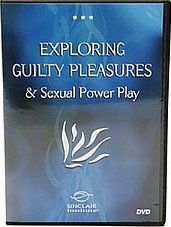 Sinclair Intimacy Institute Enjoying Guilty Pleasures, DVD
Must be 18 years of age or older to purchase.From the bestselling Better Sex Video Library.
With sex, just as with food, some cravings are simply irresistible.  Join our nationally recognized hosts, Dr. Herb Samuels and Louise-Andre Saltier, as they address myths surrounding sexually taboo topics, and the guilt associated with various "forbidden" fantasies.
Real couples indulge in a variety of sex play that will inspire you and your lover to explore your own cravings.  See how watching erotic movies together, or role-playing a sensual fantasy can intensify sexual satisfaction.  Learn how blindfolds and feathers can spice up your sex life, and can be a hot yet wholesome way to enhance trust within a committed, loving relationship.  Anticipation and experimentation are often times the more irresistible aphrodisiacs.
By
Exploring Guilty Pleasures
, lovers can strengthen the bond of love and trust, as well as increase sexual pleasure and lovemaking skills.
Special Features:
Chapter selection
Sexual health information
Bonus short film
Behind the Scenes
Featured Products 
Hyperlink to BetterSex.com
Herb Samuels, Ph. D., City University of New York.
Louise-Andree Saulnier, TV Host, Sex Educator
Forbidden Pleasures™ - A better sex video series. 
Approx. 60 minutes.
Not Rated.  Includes sexually explicit educational material. 
Sinclair Intimacy Institute
Better Relationships, Better Sex™
We cannot accept returns due to the nature of the product.
* These statements have not been evaluated by the Food and Drug Administration. This product is not intended to diagnose, treat, cure, or prevent any disease.