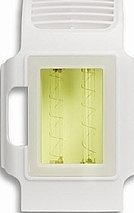 Silk'n SensEpil Replacement Cartridge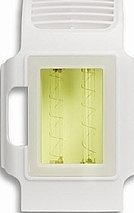 Silk'n SensEpil Replacement Cartridge
Now introducing Silk'n SensEpil?, the next generation of Silk'n? - already proven as a world leader in hair removal at home for nearly two years!
The breakthrough Silk'n? products are clinically proven, FDA cleared and physician recommended devices that use light energy for safe and easy hair removal at home.  Use Silk'n? in the privacy of your own home and enjoy the long-term hair removal results that were once only available in a doctor's office.
Silk'n? products utilize the highly sophisticated and new Home Pulsed Light? technology developed by Home Skinovations Ltd.
Benefits:
Physician Recommended:  Silk'n SensEpil? is FDA cleared and was tested by top dermatologists and plastics surgeons who concluded that Silk'n SensEpil? can be used safely, easily and effectively in a typical home environment.
Clinically Proven:  The Home Pulsed Light? technology in the Silk'n SensEpil? device has been designed to capture all the clinical benefits of pulsed light for hair removal at home.  In clinical trials lasting over one year, top dermatologists and plastic surgeons found Silk'n SensEpil? able to achieve excellent hair removal results.
Privacy at Home:  The exciting benefits of Silk'n SensEpil? technology could be enjoyed in the convenience and privacy of your home, whenever you wanted.
Safe:  When used according to instructions, Silk'n SensEpil? treatments were safe and with minimal discomfort compared to waxing or professional laser treatments.
Easy to Use:  Silk'n SensEpil? was easy to set up, and self-treatments were simple, quick and clean.
Cost Effective:  Using Silk'n SensEpil? will save you money when compared to extended use of professional laser treatments, waxing, and shaving.
Home Pulsed Light Technology?  (HPL?)
The process of laser and light-based hair removal is well known and established.  It has been proven in clinical use around the world for over 15 years as a safe and effective way to achieve long-term hair reduction.
The patented and FDA cleared Home Pulsed Light? technology (HPL?) is a new and innovative light energy technology combined with unique acoustic effect, designed exclusively for carrying out safe and effective removal of unwanted hair at home.  The scientists and engineers behind HPL? technology all have an extensive and successful history in the laser and light-based aesthetic industry, having previously developed products for major companies such as Syneron, Sharplan, Laser Industries and Lumenis, as well as others in the aesthetics industry.
Through HPL?, the Home Skinovations' scientists have created the Silk'n SensEpil? device that is small and portable, and operates with a surprisingly low and extremely safe level of light energy.  In clinical trials HPL? technology effectively removed unwanted hair on the majority of participants.  In consumer tests users of HPL? technology in Silk'n SensEpil?
* These statements have not been evaluated by the Food and Drug Administration. This product is not intended to diagnose, treat, cure, or prevent any disease.