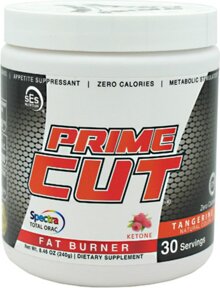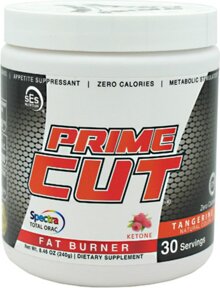 METABOLIC STIMULATOR | APPETITE SUPPRESSANT | ZERO CALORIES
4-in-1 Thermogenic Weight Loss With O.R.A.C Protection
MAX THERMOGENESIS
PRIME CUTT A unique blend of healthy, clean, and powerful thermogenic extracts, delivered in a great-tasting powdered drink form. Precisely dosed, this fruit weight loss drink provides 1,000 mg of Glutamine to replenish your body's amino acid and glycogen stores. Taurine works with glutamine to move electrolytes like potassium and magnesium between cells.* "Feel the Surge!"
EXTREME ENERGY*
Powerful thermogenic transporter (caffeine anhydrous) also boosts up energy levels. Rev-up your alertness and punch towards your fitness goals.*
O.R.A.C.
Spectra Total ORAC Antioxidant Powder is a revolutionary "next step" antioxidant product that offers five-dimensional targeting of free radicals.* Spectra has been designed to fight against the five distinct types of free radicals to help support human health.*
RASPBERRY KETONE
An exciting new fat-burning formula with powerful blends of superfruits and antioxidants to help boost fat burning results.* Raspberry ketone occurs in a variety of fruits including raspberries, cranberries and blackberries. *
---
FAT BURNER
PHENETHYL AMINE P.E.A.
100mg
RASPBERRRY KETONE
500mg
CAFFEINE ANHYDROUS
200mg
NIACIN
100mg
L-GLUTAMINE
1000mg
---
PHENETHYLAMINE (PEA)
Phenethylamine (PEA) is an alkaloid and monoamine compound that's found in the brain, and it has been suggested that mood, mental acuity, energy, and focus are strongly connected to PEA.*
---
RASPBERRY KETONE
Raspberry ketones are also noted for their ability to encourage consistent and jitter-free energy.* Raspberry ketones work well with weight loss products and energy enhancement products to promote energy and metabolism during exercise.*
---
CAFFEINE ANHYDROUS
Caffeine is a powerful thermogenic transporter that boosts metabolism so you burn even more fat. Turn fat into energy and boost your performance. Caffeine helps sharpen mental focus and reduce the perception of physical effort during exercise. Rev up your alertness and punch toward your fitness goals.*
---
NIACIN
Niacin will also help transport enzymes that break down fats, carbohydrates, and proteins, so your body can use all these nutrients effectively.*
---
L-GLUTAMINE
The body can lose up to 50% of its glutamine levels during training. L-Glutamine is one of the best anti-catabolic ingredients around.* Shorter recovery time means you reach your goals faster. Glutamine also increases muscle volume by drawing water and carbohydrates into muscle cells.* It has been suggested to boost intracellular levels of the important branched chain amino acid L-leucine, which reduces muscle loss.*