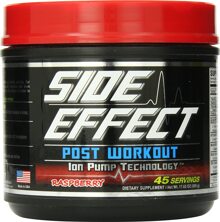 SES Nutrition Post Workout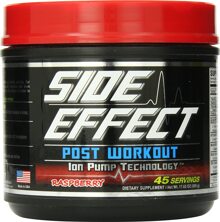 SES Nutrition Post Workout
For superior results, you need an effective post workout game plan. SES Nutrition's Post Workout provides our exclusive, highly soluble, Creatine Polyprotic and core BCAA's to assist in slowing muscle breakdown.* Along with our unique blend of scientific elements, Post Workout promotes energy refueling, amplified protein synthesis, and cellular restoration. *
Ion Pump Technology contains four key ingredients that work in sync to create our Ion Channel Transport.* Fructose 6 Phosphate and Fructose 1-6 Diphosphate is a phosphorylation (bonding between fuel and a protein) of the carbon 6 and carbon 1 molecule. Since Carbon is a basic element, your cells aggressively absorb this fuel. When we couple these two power sources with Succinic Acid (a huge molecule that donates electrons) we create an energy fusion that helps push our ingredients directly into muscles.* The best way to control this fusion is with Adenosine 3-5 cyclic Monophosphate. cAMP regulates energy levels in the cell, constantly cycling from high energy to low energy and back, sustaining our Ion Channel Transport throughout your workout. *
SES Nutrition creates a foundation starting with core building blocks you have come to expect from Post Workout products. Once we have our foundation, we design effective formulas with premium ingredients often unique to the sports nutrition field. Here's the science and benefits behind some of these ingredients:
Fructose 6-Phosphate Molecule
cAMP Molecule
Succinic Acid Molecule
Fructose 1-6 Diphosphate
Adenosine Molecule
TKG helps form the bioactive factors vital to cellular growth and maintenance. TKG competes with tryptophan (the amino acid precursor to serotonin) at the blood-brain barrier, supporting dopaminergic activity, which may help decrease fatigue.* Unlike free form L- amino acids, TKG can be shuttled directly to the muscle cells rather than being partially absorbed and used by the small intestines for nucleotide synthesis. *
AMP produces energy by giving up one of its phosphate groups through enzymatic action. The breaking of the actual phosphate bond produces a huge explosion of energy, promoting protein synthesis. *
A power molecule able to donate more than one proton. This extra proton transfer gives Creatine Polyprotic an extra blast of unique muscle-expanding power.* Creatine Polyprotic is highly water soluble...pushing directly into your muscles to support growth and volumizing effects. *
Our BCAA blend feeds your body an effective group of essential and non-essential amino's. L-Leucine, L-IsoLeucine, and L-Valine play a critical role in muscle development, because they are metabolized in the muscle rather than the liver; they can then be used for building new proteins or for energy.* L-Glutamine can help support healthy immune system function and reduce muscle breakdown. * L-Lysine HCL works with other essential amino acids to maintain growth, lean body mass, and the body's store of nitrogen. *
All muscles use Adenosine in the cytoplasm and nucleoplasm of a cell to produce natural energy. Making sure every cell has access to the necessary Adenosine is critical in promoting cellular health.* Working with 5-AMP, this dual ignition refuels your cells for your next workout! *
Am J Physiol Heart Circ Physiol. 2010 Dec;299(6):H1981-9. Epub 2010 Sep 17.
Adenine nucleotide control of coronary blood flow during exercise.
Gorman MW, Rooke GA, Savage MV, Jayasekara MP, Jacobson KA, Feigl EO.
Department of Physiology and Biophysics, University of Washington, Seattle, Washington 98195-7290, USA.
Curr Sports Med Rep. 2010 Jul-Aug;9(4):227-32.
Endurance exercise mimetics in skeletal muscle.
Matsakas A, Narkar VA.
Center for Research, Brown Foundation Institute of Molecular Medicine
The University of Texas Health Science Center, Houston, TX 77030, USA.
Annu. Rev. Biochem. 49: 877–919.
"Enzyme-catalyzed phosphoryl transfer reactions".
Knowles JR (1980).
doi:10.1146/annurev.bi.49.070180.004305. PMID 6250450.
Science Daily. May 25, 2010.
"'Nature's Batteries' May Have Helped Power Early Lifeforms".
2010/05/100525094906.htm.
Proc. Natl. Acad. Sci. U.S.A. 105 (50): 19565–6.
"Opening and closing the metabolite gate".
Törnroth-Horsefield S, Neutze R (December 2008).
doi:10.1073/pnas.0810654106. PMID 19073922. PMC 2604989.
Nature 238 (5363): 330–1. "The Meaning of "Reversed Electron Flow" and "High Energy Electron" in Biochemistry".
Chance B., Lees, H., Postgate, J.G. (1972).
doi:10.1038/238330a0. PMID 4561837. nature/journal/v238/n5363/abs/238330a0
J Biol Chem 261 (27): 12733-7"Thermodynamics of the hydrolysis of adenosine 5'-Triphosphate to adenosine 5'-diphosphate"Gajewski E, Steckler D, Goldburg R (1986)
PMID 3528161 JBC.org/261/27/12733.
Physicology (Bethesda) 21: 242-9
"Molecular, functional, and pathological aspects of the mitochondria ADP/ATP carrier
Dahout-Gonzalez C, Nury H, Trezeguet V, Lauguin G, Pebay-Peyroula E, Brandolin G (2006)
Annu Rev Biochem. 2010 Jun 23.
PMIDAmino Acid Signaling in TOR Activation
Kim J, Guan KL
21548787 [Pubmed]
Annu Rev Biochem. 2010 Jun 23
The Evolution of Protein Kinase Inhibitors from Antagonists to Agonists of Cellular Signaling.
Dar AC, Shokat KM.
Howard Hughes Medical Institute and Department of Cellular and Molecular Pharmacology, University of California, San Francisco, California
Tyrosine improves cognitive performance. Brain Res Bull. 1999 Jan 15;48(2):203-9 Deijen JB, Wientjes CJ, Vullinghs HF, Cloin PA, Langefeld JJ.