Quick Links to Best Prices Price History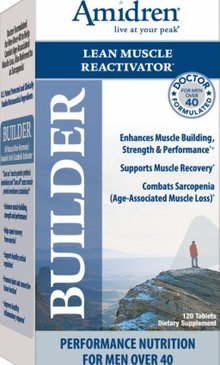 Sera-Pharma Amidren Builder
Lean Muscle Reactivator
ENHANCES LEAN MUSCLE BUILDING,
STRENGTH & PERFORMANCE* COMBATS SARCOPENIA
(AGE-ASSOCIATED MUSCLE LOSS)* SUPPORTS MUSCLE RECOVERY*
REACTIVATE YOUR MUSCLES & GET YOUR PHYSIQUE BACK!*
Like millions of other men over 40, you may be experiencing loss of muscle mass along with declining strength and athletic performance. As you age, your muscles are exposed to "anabolic resistance" and excess catabolism. As a result, your muscles fail to respond to exercise and nutrition like they used to. It's as if your muscles have gone dormant. What you are experiencing is sarcopenia (age-associated muscle loss) and it's breaking you down and making you weak. The result is that with each passing year you watch as your body loses muscle tone and strength, and your performance and masculine appeal slide downhill.

AMIDREN BUILDER can help support your muscles so they respond more like they did in your prime.* Formulated by Dr. Vincent Giampapa, M.D. and the researchers at Sera-Pharma Labs, AMIDREN BUILDER contains powerful nutraceutical compounds to help reduce anabolic resistance and excess catabolism.* AMIDREN BUILDER is specially formulated to help men over 40 build lean muscle, strength and performance when used in conjunction with proper nutrition and exercise.*
Gregg Penrod
Age 44
Lost 14 lbs.
After turning 40, Gregg Penrod was struggling with issues that plague many men his age – reduced strength, inability to build muscle, weight gain and lessened performance. But after using AMIDREN BUILDER for 90 days as part of the Primetime Muscle Makeover for Muscle & Body magazine, Gregg experienced stunning results.
Photos used by permission of Muscle & Body magazine. The results obtained are not typical. The individuals that appear in the before and after photographs are NOT employees, agents or representatives for Sera-Pharma Labs or Basic Media Group, Inc. Sera-Pharma Labs (Amidren products) is one of the Supplement Sponsors of the 90-Day "Get Your Body Back" Transformation Series as it appears in the September 2013 issues of Muscle & Body and WellBella magazines.
OVERCOMING SARCOPENIA (AGE-ASSOCIATED MUSCLE LOSS) FOR MEN OVER 40
Like millions of other men over 40, you may be experiencing loss of muscle mass along with declining strength and athletic performance. As you age, your muscles are exposed to "anabolic resistance" and excess catabolism. As a result, your muscles fail to respond to exercise and nutrition like they used to. It's as if your muscles have gone dormant. What you are experiencing is sarcopenia (age-associated muscle loss) and it's breaking you down and making you weak. The result is that with each passing year you watch as your body loses muscle tone and strength, and your performance and masculine appeal slide downhill.
AMIDREN BUILDER FORMULA ADVANTAGES
Formulated by leading anti-aging Dr. Vincent Giampapa, M.D. specifically for men over 40.
Supports muscle building, strength and performance.*
Contains clinically studied and U.S. patent-protected ingredients.
Dual anabolic/anti-catabolic mechanism of action:

"Turns on" muscle protein synthesis (anabolism).*
"Turns off"" excess muscle protein breakdown (catabolism).*

Supports healthy cortisol regulation.*
Also supports healthy joint and connective tissue function.*
AMIDREN BUILDER RESEARCH & EFFICACY
The AMIDREN BUILDER Lean Muscle Reactivation System supplies a clinical dose of SarcoTec, one of the most powerful botanical extracts of its kind. The efficacy of this extract is supported by a double-blind study involving nearly 100 subjects. Research suggests that SarcoTec can:

Protect muscle from excess catabolism by helping the body adapt to stress and support cortisol levels within the healthy range...*
Support a healthy inflammation response.*

AMIDREN BUILDER supplies a clinically-based dose of L-leucine:

L-leucine stimulates muscle protein synthesis, the essential element of building muscle, by "turning on" cellular switches that control this process.*
Research suggests that as men get older they require higher blood levels of L-leucine to overcome anabolic resistance and stimulate muscle protein synthesis.*

AMIDREN BUILDER supplies alpa-ketoglutarate (AKG) and alphaketoisocaproate (KIC):

Known as alpha keto acids, AKG and KIC scavenge, or "mop up" excess ammonia and provide additional protection from anabolic resistance and excess catabolism.*
SarcoTec is protected under U.S. Patent #6,713,092