Warning: This product is not currently available at any store.
Click the button above and PricePlow will email you when the first store has it in stock!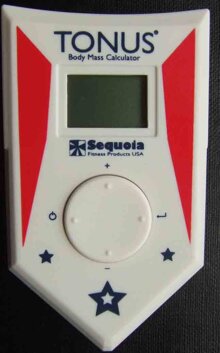 Sequoia Fitness TONUS Body Mass Calculator
The Tonus Body Mass Calculator is the
perfect tool to use at home or the gym to calculate BMI, Body Fat %, and Lean Body Mass. Forbody fat measurements, all you need is a tape measure or body fatweight, it automatically calculates BMI and Lean Body Mass. Onebutton with 4 positions controls all functions and entries.
Calculating BMI is the best and quickest method forassessment of weight categories that may lead to healthproblems. All you need to know is your height and weight. Keep thecalculator in your gym bag or bathroom and the next time youweight yourself, get your BMI in a snap!
Calculating Body Fat % is simple and accurate using the U.S. Navy's and Department of Defense techniques. Simply measure 2 or 3 sites using the most accurate, easiest, and consistent method in the world. Tens of thousands of armed services personnel around the globe are routinely measured for body fat and physical readiness standardsusing the simplest tool in the world - a tape measure!
Once Tonus calculates your body fat %, it will thenprovide you with your lean body mass and then BMI.Weight alone is not a clear indicator of good healthbecause it does not distinguish between pounds thatcome from body fat and those that come from leanbody mass or muscle.
Lean Body Mass is the best way to gauge your musclemass improvement through working out and is yourtotal weight less your body fat weight. It is good to knowthis number as you can track pounds (or Kg) of musclethat you are adding.