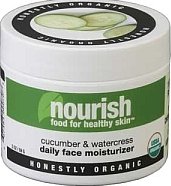 Sensibility Soaps Nourish Skin Cucumber & Watercress Daily Face Moisturizer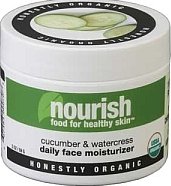 Sensibility Soaps Nourish Skin Cucumber & Watercress Daily Face Moisturizer


Nourish Food for Healthy Skin™

cucumber & watercress daily face moisturizer
Honestly Organic

Be Informed, Not Fooled!
produt labels shout about the "good stuff" in them and many claim to be "organic." Are they really organic? READ the ingredients on the labels. LOOK OUT for chemicals-they can dry or irritate skin, absorb into our bodies, risk our health, and contaminate our earth. LOOK FOR the USDA seal to ensure that the product meets strict standards and really is 95-100% certified oragnic.

For centuries, shea nut trees have been harvested for their rich butters, which offer skin nutritional benefits & intensive hydrating. Acai Oil, from the rainforest, protects skin with anti-oxidants: Vitamin E and Zinc help heal skin breakouts. Cucumber contains enzymes, which refines skin and help keep pores clear. Sweet Orange Oil contains natural alpha-hydroxy acid and smoothe & brighten skin. For all skin types, including sensitive skin.
* These statements have not been evaluated by the Food and Drug Administration. This product is not intended to diagnose, treat, cure, or prevent any disease.