Quick Links to Best Prices Price History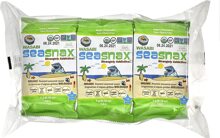 SeaSnax Grab & Go Seaweed Snacks
SeaSnax Grab & Go Seaweed Snacks Spicy Chipotle Description
Spicy Chipotle- Caliente
Strangely Addictive
100% Natural
Premium Roasted Seaweed Snack
Non-GMO
No Trans Fat, Cholesterol, MSG, Sugar.
100% Olive Oil, No Corn or Canola
100% Natural
SeaSnax is a socially-consciuos family business creating  healthy snacks that their own kids eat.
These health-conscious snacks are made with only the finest natural ingredients provided by Mother Nature. No artificial flavors, preservatives or GMOs.
Free OfGluten, non-GMO, sugar, trans fat, cholesterol, MSG, canola or corn oil, artificial colors, flavors, or preservatives.