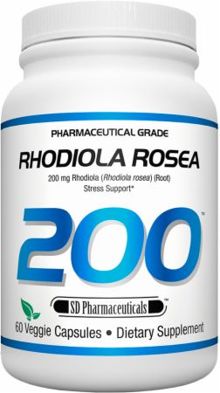 SD Pharmaceuticals Rhodiola Rosea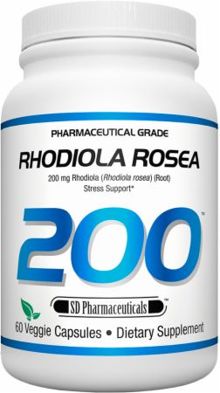 SD Pharmaceuticals Rhodiola Rosea
RHODIOLA ROSEA 200
SD Pharmaceuticals' RHODIOLA ROSEA 200 delivers a scientifically-researched percentage of key actives, Rosavin (3%) and Salidroside (1%). These precise percentages of active compounds are exactly what some clinical studies have used to deliver incredible benefits! In addition, SD Pharmaceuticals' RHODIOLA ROSEA 200 includes the clinically-tested absorption ingredient, AstraGin, to support optimal absorption! *
WHAT IS RHODIOLA?
Rhodiola rosea, also known as roseroot or golden root, has a long history of use as a valuable medicinal plant. As early as the 19th century, Rhodiola was being used in France as a brain tonic. In more recent times, extensive studies of the stress-protective (or adaptogenic) properties of Rhodiola extracts, were conducted in the USSR, and preparations of the root now form part of official medicine in Russia and other countries of the former USSR. In Sweden, one of the most advanced botanical medicine countries in the world, Rhodiola has been recognized as an adaptogen and botanical medicine since 1985. In addition, it is classified in the Swedish Drug and Therapy handbook as one of the most commonly used stress-protective agents in the group of officially registered herbal medicine products.*
HOW DOES RHODIOLA WORK?
Effects of Rhodiola rosea root extracts have been demonstrated in several studies and journal articles. A summary of these powerful effects include:*
Adaptogenic And Stress-protective Support*
Antioxidant Effects*
Performance + Cognitive Function Support*
Anti-fatigue Support*
SD Pharmaceuticals RHODIOLA ROSEA 200 Advantage!
Why is SD Pharmaceuticals' RHODIOLA ROSEA 200 better? First off, to get the best results from Rhodiola, we recommend that you use an extract that is precisely standardized to the active compounds, Rosavin (3%) and Salidroside (1%). Secondly, a large amount of research suggests that a 200 mg dosage of Rhodiola might be the ideal dosage. Taking more than 200 mg per single dose could have detrimental effects on stress support in some people.*
SD Pharmaceuticals' RHODIOLA ROSEA 200 delivers precisely 200 mg of Rhodiola per capsule and it's standardized to exactly 3% Rosavin and 1% Salidroside. These clinically-researched specifications make SD Pharamceuticals' RHODIOLA ROSEA 200 product a great choice to support stress, performance and cognitive fuction!*