Warning: This product is not currently available at any store.
Click the button above and PricePlow will email you when the first store has it in stock!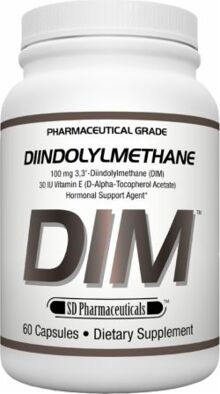 SD Pharmaceuticals Diindolylmethane DIM
High Quality Diindolylmethane
SD Pharmaceuticals' Diindolylmethane DIM is a pure form of 3,3'-diindolylmethane combined with vitamin E and AstraGin. Diindolylmethane DIM delivers 100 mg of DIM in every capsule and uses vitamin E and the clinically-tested absorption ingredient, AstraGin, to support optimal absorption.*
What is Diindolylmethane?
Diindolylmethane (DIM) is a natural compound formed during the breakdown of plants and the digestion of indole-3-carbinol, from the Brassica genus of plants. Some of the vegetables of this genus include, broccoli, cabbage, Brussels sprouts, cauliflower, and kale. In fact, many of the positive health-promoting benefits of these vegetables are due to the activity of DIM in the body.*
Why Do People Use Diindolylmethane?
Both men and women use DIM to support healthy estrogen metabolism and hormonal balance in the body.*
How Does Diindolylmethane Work?
Estrogen is broken down in the body into different metabolites. Each of these metabolites has different effects on the body. Some metabolites are low estrogenic and offer many benefits in the body and some are highly estrogenic, which are not as favorable. Research studies suggest that exercise works to increase the low estrogenic metabolites and decrease the high estrogenic metabolites and supplementation with DIM is also used by many people to support these effects.1 Research studies suggest that the 2-hydroxy estrogens (2-OH Estradiol/Estrone) and the 2-methoxy estrogens (2-Methoxy-Estradiol/Estrone) have beneficial and protective effects in the body.
Research also suggests that increases in 16-hydroxy estrogens (16α-OH Estradiol/Estrone) are associated with damaging effects in the body. Research suggests that DIM can support healthy levels of 2-hydroxy estrogens and 16-hydroxy estrogens in the body.
Stacks Well With Other Ingredients
Many athletes, bodybuilders and fitness competitors like to stack DIM with other ingredients to achieve their desired goals. For instance, many men like to stack DIM with testosterone-boosting ingredients for synergistic effects.*