Warning: This product is not currently available at any store.
Click the button above and PricePlow will email you when the first store has it in stock!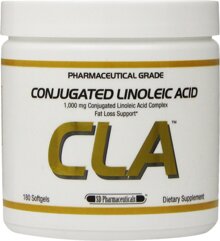 High-Quality Conjugated Linoleic Acid
SD Pharmaceuticals' Conjugated Linoleic Acid CLA delivers a 1,000 mg CLA complex in each soft gel! SD Pharmaceuticals' Conjugated Linoleic Acid CLA supplies the metabolically active CLA isomers: cis-9, trans-11 and trans-10, cis-12.*
What Is CLA?
CLA is a collective term used to describe a set of 28 distinct positional and geometric isomers of linoleic acid, which is an unsaturated omega-6 fatty acid. CLA is formed when reactions shift one or both of the double bonds of linoleic acid so that the two double bonds are no longer separated by two single bonds. Naturally occurring sources of CLA are found in dairy products, beef, and lamb. Many consider CLA as a "fat-burning" fat because it can support fat oxidation in the body. Research suggests that CLA can prevent the accumulation of fat in fat cells and support a reduction in fat storage. CLA has even been shown to support lean muscle mass. Overall, CLA can help improve total body composition.*
How Does CLA Work?
CLA can decrease triglyceride (stored fat) incorporation in adipocytes (fat cells).*
CLA modulates the differentiation (reproduction) of adipocytes (fat cells).*
CLA induces apoptosis (cell death) in both brown and white adipose (fat) tissue.*
CLA inhibits lipoprotein lipase and fatty acid synthase – enzymes responsible for fat synthesis.*
CLA can increase energy expenditure when used chronically and is associated with higher levels of norepinephrine (one of the body's most powerful fat-burning hormones).*
Additional Benefits Of CLA
CLA appears to enhance immune function.*
CLA seems to reduce hunger and improve satiety and feeling of fullness.*
CLA appears to have cardiovascular benefits.*