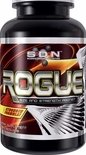 Science Defined Nutrition Rogue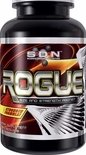 Science Defined Nutrition Rogue
Our 1st innovation is ROGUE, which is the safest and 100% legal muscle building anabolic on the market and with product like Rogue we can proudly admit that the sport science is at the level where the consumer no longer has to sacrifice their health and wellbeing for results in the gym.
ROGUE can increase Strength and Muscle Mass from at the regular use of 3-4 weeks. (depending on your dietary intake, results may vary) (high protein & high carbohydrate intake is required.)
ROGUE does not contain any synthetic hormone, pro-hormone, banned or illegal substance...
ROGUE is unlike anything that has ever appeared on the market before it, and represents an entirely new class of supplements that work through a multi phase process called "Systemic Physiological Optimization." Unlike most other products that focus on just one or two biological mechanisms that induce hypertrophy, ROGUE creates the ideal internal anabolic environment throughout every system in the bodyso that you become a literal muscle growth machine…24 hours a day!
ROGUE contains an exclusive matrix shown to stimulate Natural GH and Testosterone Production, Enhance Total Nutrient Utilization, Increase Nitric Oxide Production, Maximize Protein Synthesis, Protect Muscle Cells, Support Cardiovascular Function, and even suppress levels of Myostatin!
ROGUE dramatically increases muscle mass by stimulating natural growth hormone levels and free testosterone production. ROGUE also helps in amino acids, glycogen and fat uptake by tissues to repair and rebuild new muscle cell production. In addition, ROGUE increases nitric oxide production as well as increased protein synthesis and absorption and overall nutrition effectiveness by your daily nutritional intake.
ROGUE aids in storage of muscle glycogen; the primary fuel source for anaerobic training, it also supports gastrointestinal health to insure overall safety which can be scientifically affected by high volume training and nutrition intake.
ROGUE increases the surface that the body can absorb nutrients across, which will increase nutrient uptake and nutrition utilization in the blood stream.
ROGUE delays muscle fatigue by its group of herbal extracts proven to aid and protect muscle tissues by weight training and everyday stress. ROGUE helps with food digestion and transports the vital nutrients quickly, which are absorbed by the body and in return promotes rapid muscle saturation for extreme gains in size and strength.
ROGUE also directly stimulates amino acid and vitamin release into muscle tissues. ROGUE supports and protects cardiovascular function, increasing oxygen availability, endurance, stamina, work capacity and time to exhaustion. ROGUE also contains a group of significant herbs which have shown in studies to suppress Myostatin production, which makes ROGUE a product that will make an individual gain considerable amounts of new muscle mass.
How Does "SPO" Technology Multi Phase Matrix and Rogue Work???
A preoperative extract of ingredients leuteotropic hormones and prolactine which are synthesized by lactrotrope cells in the adenohypophysis (anterior pituitary gland) at genetic level the gene encoding prolactine in humans is located on chromosome 6 which is proven to regulate immune response, a simply extraordinary formula with Grade-androgenic analog which mimics the testosterone and effects perpendicular as testosterone.
The most highly concentrated herbal extracts intended for one and only one purpose, absorb and digest the protein and carbohydrates while the secondary objectives of vaso-active intestinal peptides, while providing NSAIDS reduce inflammation which sometimes causes intestinal and liver abnormalities and the building material, all through the endocrine level ending at the most complex genetic apoptosis level.
The adaptogenic compounds in ROGUE enhances and stimulates the recovery of tissues and cells promoting the cellular rebound and adhesion from extremely strenuous exercises. The extracts used in ROGUE promises to enhance energy levels, while expanding the levels of growth hormones to the maximum while containing the trace amounts of dopamine, 5HYDROXYTRYPTAMINE, and beta carotene
ROGUE, with "SPO" technology has finally bridged the gap between illegal drugs and truly effective Nutraceutical Supplementation.
What you ROGUE users will experience:
Increased Muscle Mass
Increased Strength Gains
Rapid Recovery Time (No Soreness)
Increased Protein Synthesis (Appetite Increase)
Fullness & Hardening of Muscles
Improved Sleep / Sense of Well Being
The overall ability to "overtrain" and push harder than ever before!