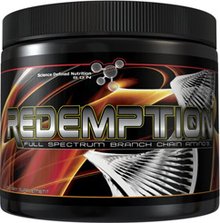 Science Defined Nutrition Redemption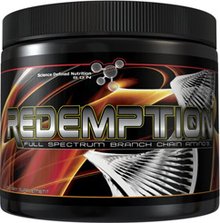 Science Defined Nutrition Redemption
Science Defined Nutrition's latest categorical redefining example of excellence in supplementation comes in the form of anabolic essentialism known as REDEMPTION. By adhering to the most basic yet profound principal ingredients for muscle growth, capitalizing on the established fundamental anabolic constituents of protein (branch chain amino acids) in an unprecedented L-Leucine rich blend, REDEMPTION goes beyond the limiting constraints of primitive BCAA product development and amplifies the synergism with two more potent key compounds: L-Taurine and Citrulline Malate.

The scientific literature pointing to the unsurpassed anabolic capacity claimed by L-Leucine seems to be as endless as it is conclusive: No single protein derived integral fraction is paralleled in muscle building proficiency as L-Leucine, forcing the body's metabolic machinery into motion as it triggers protein synthesis the irreplaceable and absolutely vital first step in the process to repair and incarnate new muscle tissue. L-Leucine immediately creates the ideal physiological environment to encourage and forcefully promote an anabolic environment.

BCAAs are also of utmost significance to training athletes, because they are muscle-specific, being metabolized and dutifully put to work creating new and enlarged muscle fibers. So in effect REDEMPTION provides the muscle morphing essentials to achieve your envisioned physique by supplying BCAAs that intelligently exert their hypertrophic activity directly within muscle tissue a clinically validated cornerstone in the REDEMPTION formula.

Beyond the reach of the BCAA amalgam found in REDEMPTION exists a two-tiered plan of anabolic attack that will elicit muscle volumization through very unique intrinsic properties exhibited by L-Taurine and Citrilline Malate. L-Taurine is the body's most voluminous amino acid, relevant to bodybuilders because it is highly prevalent in Type-2 muscle fibers (responsible for the fast explosive type intense activity performed over short duration sound familiar?). The primary and most meaningful property exhibited by L-Taurine has a two-fold anabolic potentiating aptitude in that it mimics creatine by signaling the muscle cell to attract and hold a higher magnitude of fluid, resulting in both the highly sought after intense muscle pump and the heightened protein synthesis level due to hyper cellular hydration.

REDEMPTION'S formula is finalized with the inclusion of Citrulline Malate, ensuring every muscle nourishing milligram are at the ready to solidify that full-circle muscle materializing matrix. Citrulline Malate is a prime example of evolved supplement development, greatly increasing an athlete's ability to elevate Nitric Oxide production causing a significant increase in plasma Arginine concentration, scavenge and buffer harmful endotoxins (such as lactic acid and ammonia, yielding a greater work capacity), and has even been documented to cause an up regulation in ATP production by a marked 34%!

Once again, Science Defined Nutrition has put their mission statement and undying commitment to the athlete's athletic ambition into swift action, and presented the industry and consumer with something never before seen, and thus never before experienced in terms of sheer performance enhancing magnitude. REDEMPTION will flawlessly serve as your anabolic foundation, providing an unshakable base to build the rest of your supplemental protocol, and your physique off of long into the future. ROGUE, FREE REIGN, and REDEMPTION your three pillars of anabolic actualization its time to construct YOUR Science Defined Physique!

Supplement Facts:

Serving Size: 1 scoop(s)
Servings Per Container: 30

Amount Per Serving:
Isoleucine 1 g
Valine 1 g
L-Leucine 5 g
L-Taurine 2 g
Citrulline Malate 1 g

Other Ingredients: Natural and Artificial Flavors, Sucralose, Acesulfame Potassium.

Directions: Take 1 serving with 8 oz of water cold water, and drink before, during, and immediately after your training session.

Note: Manufacturers continually change product specifications. While we try our best to keep product descriptions up to date, they do not necessarily reflect the latest information available from the manufacturer. We are not responsible for incorrect or outdated product descriptions and/or images.

These statements have not been evaluated by the Food and Drug Administration. This product is not intended to diagnose, treat, cure, or prevent any disease.