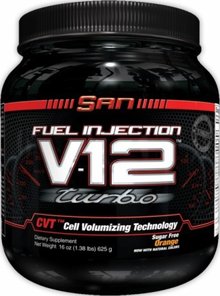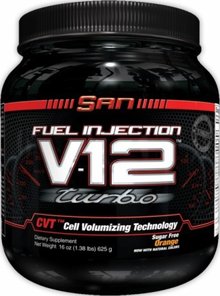 Product Description
Empower yourself by the monstrous thrust of the one and only, V-12 Turbo! When the performance wizards at SAN, an assorted team of scientists and chemists, got their hands on V-12, they didn't hold back. In a world of compromise, this isn't one. V-12 Turbo stands boldly in the face of convention and drives straight through it. Your ally in this act of defiance is a scientifically designed formulation that produces super human muscle power. So go right ahead and surpass any feat imaginable in strength, endurance and performance. V-12 Turbo obeys your command immediately with irrefutable strength, endurance and for everlasting skin-bursting pumps. Whatever the situation calls for, you can bet V-12 Turbo is ready.

GET READY TO FEEL THE POWER!

V-12 Turbo consists of a patented cell volumization matrix that was scientifically designed to ignite ROBUST MUSCLE POWER along with MONSTROUS PEAK TORQUE to handle your most rigorous workouts with ease. It simply starts with the thrilling rush of your first dose and keeps on giving you maximum power throughout your grueling workouts. With such a nice torque advantage as your ally, you'll always ready to pounce.

OVERCOME ALL IMAGINABLE OBSTACLES

In an age when so many products just seem to talk the talk, V-12 Turbo actually walks-the-walk - straight through any agonizing plateau or strength barrier. With over 250,000 loyal customers, V-12 Turbo has built a reputation that speaks for itself… And not by relying on hype to instill a false sense of hope. V-12 Turbo does not need to - it actually delivers the real product that escapes the ordinary! If you are looking for a product that gives you UNPARALLELED WORKOUTS with UNLIMITED ENERGY that seems to last forever give V-12 Turbo a try.*

GUARANTEED RESULTS!

* These statements have not been evaluated by the FDA. This product is not intended to diagnose, treat, cure or prevent any disease. These studies were performed at a different dosage than that in our product. The efficacy of this ingredient at the dosage level in our product has not been established in a clinical study and may not be equivalent.