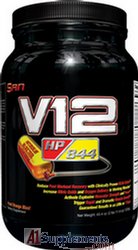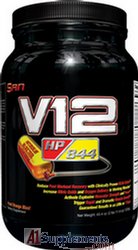 Forget everything your knew about engines and performance. SAN's new-engineered V12 HP 844 is the most performance-exhilarating and strength-empowering rocket to his this century. Eight-Four-Four the numbers in its name tell you what sets the new V12 HP 844 apart from the herd. Most V12 users concurred that the old formula was already adequetely endowed with it's predecessor CVT (cell volumizing technology), but that was merely considered adequate by the standards of SAN. At SAN we view outrageously excessive as a starting point not a destination.

V12 HP 844 reduces post workout recovery with clinically proven BCAA Esters. It increases nitric oxide and oxygen delivery to working muscles. This new and improved formula activates explosive muscular strength and power. Trigger rapid and dramatic muscle growth. Guaranteed results in as litte as seven days.

Supplement Facts:

Serving Size: 1 Level Scoop (26.6g)
Servings Per Container: 40

Amount Per Serving:

Calories 32
Calories from fat 0g
Total Fat 0g
Saturated Fat 0g
Cholesterol 0mg
Total Carbohydrates 8g 3%
Sugars 0.8g
Protein 0g

Vitamin B3 10mg 50%
Vitamin B5 10mg 100%
Vitamin B6 5mg 250%
Vitamin B12 25mcg 416%
Folic Acid 400mcg 100%

BCAA Esters Catabolic Matrix: 4g
(L-leucine, l-leucine-ethyl ester, l-isoleucine ethyl ester, l-valine)

Plasma Explosion Matrix: 4g
(Arginine-akg, arginine-ethyl-ester DiCHl, l-ornithine-akg, l-citrulline malate, 2-aminovaleric acid)

Duralast Matrix Reloaded: 4g
(l-taurine, l-histidine HCl, trimethylglycine)

Myodrive Remix: 3.5g
(Glucuronylactone, beta-alanine, oroctic acid, anhydrous, l-aspartic acid, n-acetyl-l-cysteine)

Other Ingredients:
Maltodextrin, malic acid, citric acid, natural and artificial flavors, calcium silicate, acesulfame-k, sucralose, fd&c colors (red no.40, yellow no.6).

Directions: Mix one servingj in 10-12oz. of cold water with a shaker bottle. To enhance dissolution of the raw ingredients keep the shaker bottle inside the freezer for about 5-10 minutes and shake again before consuming. Split dose and consume before and during your workout. Use 2 servings daily. Space dosing atleast 6 hours apart. Store in a cool dry place.

These statements have not been evaluated by the Food and Drug Administration. This product is not intended to diagnose, treat, cure, or prevent any disease.