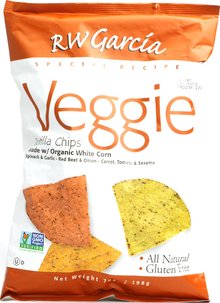 R.W. Garcia Tortilla Chips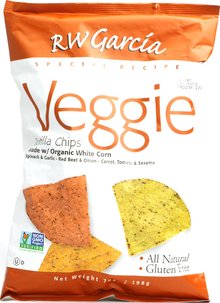 R.W. Garcia Tortilla Chips
R. W. Garcia Tortilla Chips Veggie Description
Special Recipe
Made with Organic White Corn, Spinach & Garlic, Red Beet & Onion, Carrot, Tomato & Sesame
Non-GMO
All Natural
Gluten Free
Natural goodness... from the garden to yours!
R.W. Garcia Veggie tortilla chips are anything but your garden-variety snack. With three great tasting vegetable flavors in one bag - Spinach & Garlic, Red Beet & Onion, and Carrot, Tomato & Sesame - they're great for dipping or right out of the bag.
And they add a crunchy, new twist to any veggie platter. Made from wholesome, all natural ingredients, they contain no trans fats, wheat or gluten. Snack healthier with RW Garcia.
Always NON-GMO.
At RW Garcia, they do everything possible to ensure the products do not contain GMOs (Genetically Modified Organisms). Good for you . Good for the planet.
Made with Organic White Corn
All Natural
Wheat & Gluten FREE
Free Of Gluten, wheat, trans fats, non-GMO. Disclaimer These statements have not been evaluated by the FDA. These products are not intended to diagnose, treat, cure, or prevent any disease.
Nutrition Facts