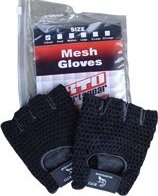 RTO Sportsgear Mesh Workout Gloves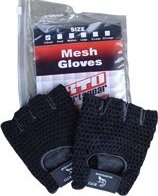 RTO Sportsgear Mesh Workout Gloves
Hands hurting? Well get these black mesh gloves to prevent your hands from getting torn up. Use these gloves so you can concentrate on working out, not hand pain! The RTO Sportgear mesh workout gloves are built tough, like you, with triple stitching! A mesh back provides maximum ventilation, keeping your hands cool.
RTO Sportsgear Workout Gloves Feature:
Made from genuine leather
Color will not bleed
Triple stitching prevents tearing
Mesh back provides maximum ventilation
Fine quality, strong, durable.
Large Image Of Mesh Gloves: