Quick Links to Best Prices Price History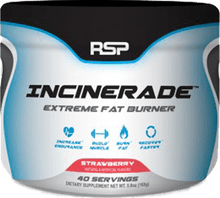 Rsp Nutrition Incinerade | Now on Sale at
ExtremeFat Burner
Product Highlights:
CLA and L-Carnitine

Extreme Energy

Increase Metabolism

Enhance Mood and Focus

Great Taste and Solubility
Rsp Nutrition is one selection out of many diet & weight supplements sold at . Incenerade: is formulated to burn fat while increasingenergy and enhancing mood and focus. The intense stimulant blend is aThermogenic Igniter Matrix that activates the central nervous system increasingthe metabolic rate and mobilizing fat stores. The Incinerader Matrix destroysthe mobilized fat stores by burning them for energy.