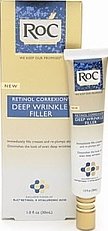 RoC Retinol Correxion Deep Wrinkle Filler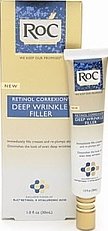 RoC Retinol Correxion Deep Wrinkle Filler
Exclusive Fusion of RoCRetinol + Hyaluronic Acid
Immediately fills creases and re-plumps skin.  Diminishes the look of even deep wrinkles.
As you age, your skin's ability to renew itself slows.  Skin loses its elasticity and wrinkles become more evident.  As your skin cell turnover continues to slow, wrinkles become deeper and more settled.
RoC Retinol Correxion
Deep Wrinkle Filler is an intensive, anti-wrinkle formula that immediately fills creases and re-plumps skin.  With daily use, it continues to improve the look of skin so that even deep wrinkles appear diminished in as little as four weeks. 
The result - younger-looking, more beautiful skin.
How it works:  This breakthrough, dual-action formula is specially developed to target wrinkles, with an exclusive fusion of hyaluronic acid and pure
RoC Retinol Correxion
:
Hyaluronic acid to immediately hydrate and plump skin
RoC Retinol, a clinically proven wrinkle-fighting ingredient
Results after Clinical Testing
Immediately: 
Creases are filled to diminish the appearance of fine lines
Re-plumped skin is softer and smoother
After 4 weeks:
The look of crow's feet and deep facial wrinkles are diminished
This exclusive formula is:
Non-comedogenic
Dermatologist tested
RoC has been a leading French skincare brand for over 50 years, devoted to developing anti-aging products that guarantee visible and lasting results for beautiful, younger-looking skin.  Strong partnerships with dermatologists have contributed to our expertise in understanding skincare and developing clinically proven products, which are highly effective, yet suitable for all skin types. Also try our other
RoC Retinol Correxion
products to diminish the look of fine lines and wrinkles.
Retinol Correxion; Deep Wrinkle Daily Moisturizer with SPF 30
Retinol Correxion Deep Wrinkle Night Cream
Retinol Correxion Deep Wrinkle Serum
Retinol Correxion Eye Cream
Retinol Correxion Hand Repair
Made in France
 In case of direct contact with eyes, rinse immediately.
* These statements have not been evaluated by the Food and Drug Administration. This product is not intended to diagnose, treat, cure, or prevent any disease.