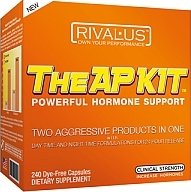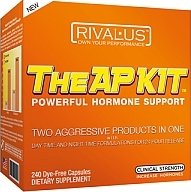 THE AP KIT is an evolution of our most powerful muscle-building stack,
ANABOLIC PRESCRIPTION. With a new and improved formulation based on our direct work with professional and Olympic athletes, and the latest in scientific research and study, we've taken the best, and made it better!

THE AP KIT is comprised of two products,
one taken in the morning and one taken at night for 24-hour hormone support, building lean muscle and improving sexual performance. ALERT is taken in the morning to immediately reverse the process of catabolism and jump-start the metabolic process while increasing mental focus and boosting energy. PULSE is taken at night to support optimal hormone release, provide deep REM sleep and improve sexual performance. The combination of these two products assists in both building and protecting lean muscle mass, increasing aggression and libido.


The formulation behind THE AP KIT has been designed for professional athletes
to be safe for drug-tested sports and effective in its use. THE AP KIT contains no banned substances as per the World Anti-Doping Agency (WADA) and/or the International Olympic Committee (IOC) and will not cause a positive drug test in or out of competition.
Directions: Dr. Darren Burke (PhD) recommends 4 capsules of ALERT first thing in the morning with 1-2 glasses of water, and 4 capsules of PULSE at night before bed. For best results use The AP KIT every day and combine with resistance exercise 3-5 days per week.
Note: Manufacturers continually change product specifications. While we try our best to keep product descriptions up to date, they do not necessarily reflect the latest information available from the manufacturer. We are not responsible for incorrect or outdated product descriptions and/or images.

These statements have not been evaluated by the Food and Drug Administration. This product is not intended to diagnose, treat, cure, or prevent any disease.