Quick Links to Our Prices
How does this work and how do stores get listed? See our disclosure below to learn more. Price History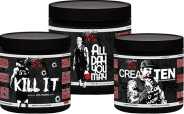 Rich Piana 5% Nutrition Whatever It Takes Stack



All Day You May is a 10:1:1 Ratio BCAA and recovery powder, delivering one of the most dynamic products on the supplement market today. ADYM is formulated to aid your muscle building and recovery efforts. Plus it's packed with essential amino acids, Copmax, Beta-Alanine, Electrolytes and Joint Support.



AllDayYouMay builds on Rich Piana's philosophy that supplements should never take the place of quality food, but rather to be taken in addition to the food you eat to help you to keep growing toward your goal.




All Day You May has a complete amino acid profile of Branched-Chain Amino Acids, Essential and Non-Essential Amino Acids, plus a Conditional Amino Acid Blend to cover ALL YOUR BASES.

● 10:1:1 Ratio BCAA's ● Copmax and Beta-Alanine ● Plus Glutamine and Carnitine






THE 5% RUNDOWN:
Protein helps in the process of repair, growth, and maintenance of muscle cells. Amino acids are known as "building blocks of protein," available in two forms: Essential and Non-Essential. Non-Essential Amino Acids are produced naturally by the body, while Essential Amino Acids must be supplemented with a balanced diet.

Leucine is an activator of the protein known as mTOR, which is involved in muscle protein synthesis – BUILDING MUSCLE. This has a positive impact on lean mass, endurance, and strength.

AllDayYouMay has a 10:1:1 LEUCINE LOADED BCAA RATIO of Leucine, Isoleucine, and Valine.

1 Scoop of AllDayYouMay contains more Leucine than 5 large eggs.

AllDayYouMay contains additional amino acids Isoleucine and Valine, playing a major role in promoting an anabolic (muscle-building) environment and preventing catabolism (breaking down tissue). This means more time spent training, and less time recovering from it.

COPMAX AND BETA-ALANINE

We know you don't want to waste time filling shaker cups when you could be in the gym, moving some weight. That's why AllDayYouMay includes Creatinol-O-Phosphate (Copmax) and Beta-Alanine for all your muscle-building and endurance needs, ALL IN ONE convenient product.

RECOVERY AND JOINT SUPPORT

AllDayYouMay adds Glutamine and Carnitine for faster recovery benefits. We even threw in electrolytes and raw coconut water concentrate to stay hydrated. Factor in some joint support with Glucosamine and fight off inflammation from exercise with MSM to keep you moving ALL DAY.
These statements have not been evaluated by the Food and Drug Administration. This product is not intended to diagnose, treat, cure, or prevent any disease.
LOVE YOUR WORKOUT.
KILL YOUR WORKOUT.
KILL IT has roughly half the caffeine content of 5150 while delivering the same intensity and pre workout focus with strength building creatine and NO-boosting agmatine sulfate. This is 5% Nutrition's All-In-One Pre Workout supplement for men and women that want to love their workout - and kill their workout.
LESS STIMULANTS. MORE PUMPS.

Focus, Pumps, Energy, Intensity. KILL IT puts it all together.. Using tried and true ingredients combined with cutting-edge innovation, KILL IT delivers sleeve-stretching pumps with mega doses of proven performance enhancing compounds.
● All-In-One Pre Workout ● Creatine and Endurance Blend
● Citrulline and Beta-Alanine ● Nitric Oxide Support ● Promotes Lean Muscle
AGMATINE SULFATE
Agmatine is a neurotransmitter that helps your body produce more nitric oxide (NO), increase insulin sensitivity, promote lean muscle, and enhance blood flow. Better blood flow means more nutrients fill your muscles, fuel your workout, and deliver pumps - rep after rep. BETA-ALANINE & COPMAX
Traditional creatine monohydrate takes weeks of pre-loading to reach an effective dose, along with the water retention and bloat that can slow down your training session. Not here at 5%! KILL IT knows that you're here to PUT IN WORK. COPMAX delivers the benefits of creatine - strength, endurance, and lean muscle - with none of the drawbacks, from your first scoop.
3 CREATINE SOURCES FOR STRENGTH AND ENDURANCE
- Magnesium Creatine Chelate
- Tri-Creatine Malate
- Creatine Pyruvate HYDRATING ELECTROLYTES
Coconut water delivers electrolytes, sodium, and potassium, along with vital nutrients and amino acids, which keep you building muscle and hitting the iron.
These statements have not been evaluated by the Food and Drug Administration. This product is not intended to diagnose, treat, cure, or prevent any disease.

STRENGTH. SIZE. LEAN MUSCLE.




Creatine is one of the first supplements any athlete adds to their training stack - in the gym, on the field, or on the platform. It's a tried and true staple in sports nutrition for it's ability to pack on serious size.



Whether you're a bodybuilder, weightlifter, strongman or fitness competitor, creatine is a proven benefactor for performance and post workout recovery.




WITH TODAY'S ADVANCEMENTS IN NUTRITION, TECHNOLOGY, AND SUPPLEMENT SCIENCE, IT'S A MATTER OF WHAT TYPE OF CREATINE THAT TRANSLATES TO THE BEST RESULTS.

- 10 sources of Creatine - Designed for strength, size, and lean muscle - Creatine Accelerant Blend for fast absorption
- Helps feed muscle growth - Replenishes ATP for energy and stamina




We use 10 EFFECTIVE CREATINE SOURCES and our Creatine Accelerant Blend to ensure that your muscles use and absorb the nutrients you're feeding them - TO KEEP GROWING.



10 EFFECTIVE CREATINE SOURCES

1. Creatine MagnaPower

2. Tr-Creatine Malate

3. Creatine Anhydrous

4. Creatine Monohydrate

5. Creatine Citrate

6. Creatine Pyruvate

7. Creatine Ester Hydrochloride

8. Creatine AKG

9. Creatine Ethyl Ester Malate

10. Creatine Gluconate

THE 5% RUNDOWN:

Here's the rundown: Adenosine 5'-triphosphate (ATP) is the main molecule for storing and transferring energy in muscle cells. ATP is broken down to produce energy. You can only perform at maximum intensity as fast as ATP is replenished - and the body uses ATP faster than you can build it back up.

Creatine increases your muscles' phosphocreatine stores, which helps with the formation of new ATP, allowing you to produce more energy and fuel your muscles during high-intensity exercise
These statements have not been evaluated by the Food and Drug Administration. This product is not intended to diagnose, treat, cure, or prevent any disease.