Quick Links to Best Prices Price History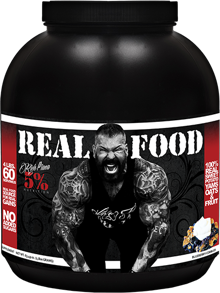 Rich Piana 5% Nutrition Real Food
Make no mistake this product is what its titled REAL FOOD. If you have been following Rich Piana for any time at all, you may have noticed he is passionate about athletes consuming real whole foods as part of their dietary regimen. Not one time a day but many times a day. 5 Percent Nutrition REAL FOOD contains the macro and micro nutrients you need to maximize growth. In this day and age, people just do not have enough time to cook well balanced meals on a regular basis. This can lead to making unhealthy choices when on the go. Real Food changes that. It's convenient, tastes great and gives you all the nutrient you are looking for.

Key Features of REAL FOOD:

Meal Replacement: REAL FOOD can be taken with protein as part of a meal or alone either throughout the day or post-workout.

Low Glycemic Index Carbs: The carbohydrates in 5 Percent Nutrition REAL FOOD are low blood sugar impacting complex carbohydrates that are assimilated at rate slow enough to prevent them from being stored as fat, also known as low glycemic index carbs.

Whole Food Carbs: Our real food supplement represents a simplistic whole food carbohydrate source consisting of REAL Sweet Potatoes, Yams, Oatmeal, and dried Fruit!

Convenience: REAL FOOD was designed to help your macros with convenience! It mixes super easy in a shaker bottle or a stirred in a glass.

Amazing Taste: Our REAL FOOD supplement tastes AMAZING. Actually it was designed to taste so good that you can consume it numerous times a day for weeks on end without getting sick of it!1

Directions: Each (1) scoop serving of 5 Percent Nutrition Real Food provides 20 grams of complex carbohydrates. Mix 1 -2 scoops according to your carbohydrate needs into a glass, shaker cup, or blender with at least 8 ounces of water per scoop. Stir, shake, or blend thoroughly. Real Food may be enjoyed throughout the day based on your dietary goals and needs.


NUTRITIONAL INFORMATION
Serving Size
1
scoop
Servings Per Container
60
Amount Per Serving
Calories
100
Total Fat
1
g
Total Carbohydrate
21
g
Dietary Fiber
1.7
g
Sugars
1.4
g
Protein
1.5
g
Vitamin A
994
IU
Vitamin C
4
mg
Calcium
11
mg
Sodium (as Sodium Chloride)
96
mg
Potassium
98
mg
Pounded Yam
10,000
mg
Oats
7,000
mg
Sweet Potato
10,000
mg
Blueberry Fruit Powder
500
mg
Other Ingredients: Sucralose, Natural Flavors, Cellulose Gum, Xanthan Gum, Carrageenan and Sucralose.