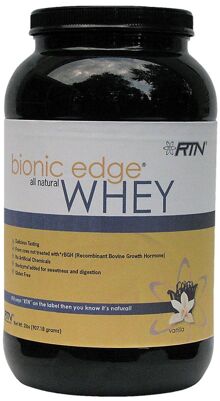 Revolutionary Technology Nutrition Bionic Edge Whey Isolate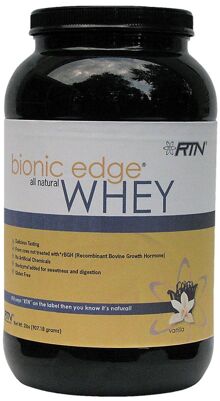 Revolutionary Technology Nutrition Bionic Edge Whey Isolate
*Delicious Tasting
*From cows not treated with *rBGH (Recombinant Bovine Growth Hormone)
*Not Artificial Chemicals
*Stevizyme added for sweetness and digestion
*Gluten Free
*If it says "RTN" on the label then you know it's all natural!
*Bionic Egde Whey is made from 100% whey proteins from ultra filtered isolates and concentrates. One serving contains 24 grams of protein, 2 grams of carbohydrates, and only 1 gram of fat. Whey protein is the highest bio-available protein for preserving and building lean muscle tissue.
*Bionic Edge Whey can be mixed in oatmeal, yogurt, cottage cheese, and can be blended and poured into ice pop makers to have as a frozen low carbohydrate treat without the artificial chemicals.
*Bionic Edge Whey is FREE of and contains NONE of the following ingredients:
*NO artificial chemicals
*NO artificial sweeteners
*NO artificial flavoring
*NO gluten
*NO casein
*NO MSG
*NO aspartame
*NO sucralose
*NO asesulfame-k
*NO artificial colors
**These statements have not been evaluated by the Food and Drug Administration. This product is not intended to diagnose, treat, cure, or prevent disease.