Quick Links to Best Prices Price History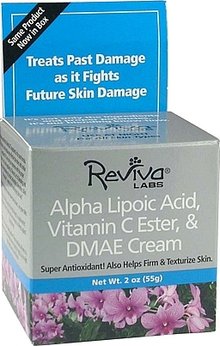 Reviva Labs Alpha Lipoic Acid Vitamin C Ester & DMAE Cream
Alpha Lipoic Acid, Vitamin C Ester and DMAE CreamDescriptionfromReviva Labs
To firm skin as it fights future skin damage, Reviva has encased these 3 unique ingredients in a soy liposome-for deep penetration and time-release action. Thus, as your body rests during the night the nutrients help "lift" skin as they fight the effects of time.
Ingredients:
Demineralized Spring Water, Glyceryl Stearate, Soybean OIl, Stearyl Stearate, Vegetable Oil, Cetyl Alcohol, Soy Phospholipid Liposome Gel, Alpha Lipoic Acid, DMAE Bitartrate, Ascorbyl Acetate, Whoel Wheat Protein, Tocopheryl Acetate, Retinyl Palmitate, Ergocalciferol, Aloe Vera Gel, Allantoin, Polysorbate 20, Simethicone, Xanthan Gum, Potassium Sorbate, Sodium Benzoate, Citric Acid.
Manufacturer's Directions
Use at night. Apply lightly over entire face and throat. Massage in with upward movements.