Warning: This product is not currently available at any store.
Click the button above and PricePlow will email you when the first store has it in stock!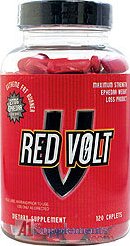 Strongest Ephedra Extract Product on The Market!
Red Volt is the most powerful ephedra product on the market. With 27 mg of ephedra extract per capsule, Red Volt leaves the competition in the dust. If you are one of the millions of Americans who have used ephedra products to lose weight or to energize your day, you owe it to yourself to try Red Volt .

With a synergistic blend of 8 active ingredients, ( including Caffeine, Citrus Aurantium, Yohimbe, Theobroma, White Willow Bark, Evodiamine and Phenyl ethylamine ) Red Volt is formulated to increase fat loss and maximize energy levels. Get in the game with Red Volt!

Ephedra Extract - A herbal supplement designed to trigger fast fat loss. Ephedra Extract acts as a general stimulant on many parts of the body at the same time and is most often used as a CNS (central nervous system) stimulant, as a decongestant and as an appetite suppressant in a wide variety of successful weight loss products. Ephedra Extract has been used for over 2,000 years to treat bronchial asthma cold & flu, chills, lack of perspiration, headache, nasal congestion, aching joints and bones, cough & wheezing, and edema. In Western terms, Ephedra Extract is considered to have diaphoretic, diuretic, central nervous system stimulating and anti-asthmatic properties.

Caffeine Anhydrous - Caffeine is the most popular stimulant on the Planet. Caffeine acts to increase mental alertness and neurologically provide the surge you need to maximize your activities. Caffeine affects the CNS causing more alertness and allowing for more intense focus. It is highly effective as a thermogenic for weight loss and energy levels. The chemical structure of caffeine is very similar to that of adenine. It increases the potency of aspirin or other analgestics.

Citrus Aurantium ( Synephrine ) - Functions in three specific ways: it burns fat, increases physical performance, and helps build lean muscle mass. Citrus Aurantium is a stimulant, similar to caffeine and ephedrine. It is thought to have similar effects in terms of providing an energy boost, suppressing appetite and increasing metabolic rate leading to the burning or more calories. Citrus Aurantium is used to activate the adrenaline system without the stimulatory effect posed by Ma Huang.

Phenylethylamine HCL - Maintains and promote mental alertness, focus, mood and concentration. Phenylethylamine may be a neuromodulator of aminergic synapses while also promoting energy, and elevating mood.

White Willow Bark - Used successfully as a natural alternative to synthetic (asprin) salicylic products. White willow also has the ability to stay in the body longer than synthetic salicin products. White willow has been shown to be an effective addition to widely used herbal weight-loss supplements. Very effective when combined with caffeine and ephedrine ( ECA Stack).

Theobroma Cocoa - A small tree that produces cocoa pods that are fermented and after a long process, packed and sold as chocolate products. Research shows Theobroma Cocoa supports heart health by decreasing oxidation of LDL cholesterol, decreases the body's inflammatory immune responses, and improves the ability of arteries to dilate. A strong antioxidant.

Evodiamine - A bioactive alkaloid extract from a plant called Evodiae Fructus. It is found in many weight loss products. It is known to produce a stimulating and thermogenic effect, which warms the body's inner core to a point where fat and water weight are burned. It has been found to be very effective for weight loss and adding that extra energy boost for workouts.

Yohimbine HCL - Found in the inner bark of a tree that grows primarily in West Africa. It has long been known as an aphrodisiac and hallucinogen , but is now more commonly used for the treatment of obesity and erectile disfunction . It has been used as an appetite suppressant and vasodilator. Yohimbine works by blocking the alpha-2 adrenoreceptors. This is important because it increases blood flow in adipose tissue, which prevents fat from being retained . New research also show yohimbe has having antioxidant properities. RED VOLT utilizes 2 forms of Yohimbe for maximum effectiveness.


Red Volt is the most powerful ephedra productWith a synergistic blend of 8 active ingredientsEphedra ExtractCaffeine AnhydrousCitrus Aurantium ( Synephrine )Phenylethylamine HCLWhite Willow BarkTheobroma CocoaEvodiamineYohimbine HCL
FDA: These statements have not been evaluated by the Food and Drug Administration. This product is not intended to diagnose, treat, cure, or prevent any disease.

Shop our 100% secure server and get your supplements at the lowest prices everyday! NOBODY beats our overall price.

FDA
Shop our 100% secure server and get your supplements at the lowest prices everyday! NOBODY beats our overall price.