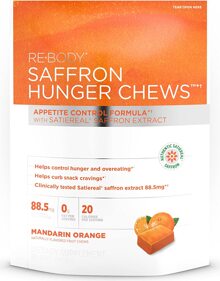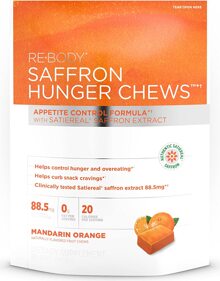 Re-Body Hunger Chews Appetite Control Formula Mandarin Orange Description
Control Hunger and Overeating
Curb Sugar and Snack Cravings
Help Inhibit Emotional Eating Impulses
Active Ingredient: Satiereal Saffron Extract 88.5 mg
0g Fat Per Serving
20 Calories Per Serving
Help control your cravings, help control your weight - weight every mouth-watering chew. ReBody Hunger Chews contain clinically researched Satiereal to help control hunger and reduce the intake of excess calories. Keep ReBody Hunger Chews on hand to help curb those cravings throughout the day.
Combined with a healthy diet and moderate exercise. ReBody Hunger Chews are a delicious solution for your weight management program!
Control Hunger and Overeating
Curb Sugar and Snack Cravings
Help Inhibit Emotional Eating Impulses
Directions
As a dietary supplement, take 1 chew twice daily before meals.
Free Of Fat. Disclaimer These statements have not been evaluated by the FDA. These products are not intended to diagnose, treat, cure, or prevent any disease.
Supplement Facts