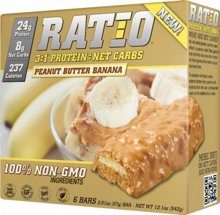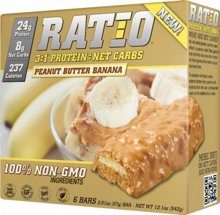 PROTEIN BARS
Know what you are eating.
Know what's best for your body.
At RATIO, our research team has spent the last 12 months developing a bar that meets the demand for a clean protein bar. We started with 24 grams of a high-quality blend of hormone free protein, using whey protein isolate, whey protein concentrate, and milk protein concentrate. From there we created 6 delicious gluten-free bars using only 100% natural and non-GMO ingredients, using minimal sugar and avoiding exotic mystery ingredients. Get clean. It's worth it!
Get clean. It's worth it!
24g
Protein
12g
Net Carbs
4g
Fiber
24g
Protein
8g
Net Carbs
5g
Fiber
24g
Protein
8g
Net Carbs
237g
Calories
24g
Protein
4g
Net Carbs
4g
Sugar
24g
Protein
4g
Net Carbs
218g
Calories
24g
Protein
3g
Net Carbs
2g
Sugar