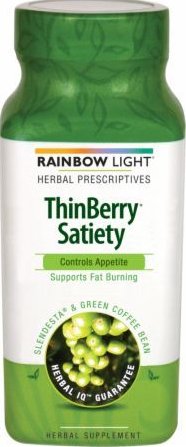 Rainbow Light ThinBerry Satiety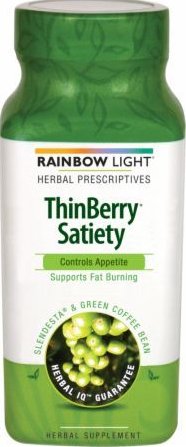 Rainbow Light ThinBerry Satiety
ThinBerry Satiety provides natural support for healthy appetite and weight management with powerful, standardized extracts of green coffee bean. Green coffee bean may aid in supporting healthy blood sugar already in the normal range and promoting weight loss while green tea supports metabolism, stimulates fat burning and reduces the storage of fat.* Slendesta, a proprietary potato extract, may support a healthy appetite by safely promoting cholecystokinin (CCK), a gastrointestinal hormone in the body that aids in increasing satiety resulting in a feeling of fullness.*
Rainbow Light's Herbal IQ™ Guarantee means its products have been thoroughly reviewed by qualified herbalists and backed by the latest science. Extracts are identity verified and tested for purity, efficacy and safety. Formulated by Christopher Hobbs, PhD, and manufactured in the USA.
Delivers 150 mg Slendesta, a proprietary potato extract, standardized to 10% proteinase inhibitor (PI2) that safely supports cholecystokinin (CCK), a gastrointestinal hormone in the body that aids in increasing satiety resulting in a feeling of fullness.* 180 mg green coffee bean extract is standardized to 50% chlorogenic acid and aids in regulating blood sugar and promoting weight loss.*
Synergistic Combinations
ThinBerry Satiety supports metabolism and promotes fat burning with 200 mg green tea that provide 90% polyphenols blended with 200 mg adaptogenic ashwagandha for mood support and energy.*
Herbal IQ™ Guarantee
Our comprehensive Herbal IQ™ Guarantee ensures thorough review by qualified herbalists of selected herbs and combinations, researched-based potencies, and identity verification and purity testing of all inbound materials at our GMP-compliant, USA-based facility. Formulated by Christopher Hobbs, PhD.
Purity Guarantee: Free of Most Common Allergens; Gluten-Free, Sugar-Free, Lactose-Free & 100% Natural
ThinBerry Satiety is VeganGuard guaranteed to be free of animal products. It is Allergen SafeGuard guaranteed to contain no gluten, soy, yeast, milk, eggs, nuts, fish or shellfish. It is sugar-free and 100% natural, containing no artificial colors, flavors, sweeteners, preservatives or additives.
100% Post-Consumer Recycled, 100% Recyclable Eco•Guard Packaging
Packaged in 100% recycled, 100% recyclable BPA-free Eco•Guard packaging with a 92% lower carbon footprint than virgin plastic.
Product Highlights
Healthy appetite and weight management support *
Utilizes standardized extracts of green coffee bean and green tea
Contains Slendesta, a proprietary extract that may promote a feeling of satiety*
Supports metabolism and aids in fat burning *
Provides mood and energy support*
Herbal IQ™ Guarantee ensures purity, efficacy and safety*
VeganGuard: Free of animal products
Allergen SafeGuard: Contains no gluten, soy, yeast, milk, eggs, nuts, fish or shellfish*
100% Natural -- Free of artificial colors, flavors, sweeteners, preservatives and additives