Quick Links to Best Prices Price History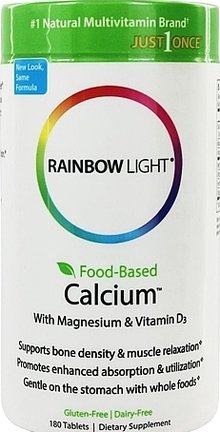 Rainbow Light Food Based Calcium
Food-Based Calcium is a holistic, whole body calcium system formulated with magnesium to support bone and muscle health.*
Bio-Balanced Bone Matrix System provides targeted, bioavailable nutrient support needed for healthy bone building.* Customized formulas deliver Food-Based, Calcium/Magnesium ratios with additional nutrients and digestive support for individual lifestyle needs.*
Convenient One-Per-Day provides 500mg Calcium and 250mg Magnesium in just one tablet a day. Safe to take 2 per-day for advanced usage.
Food-Base Bioavailable nourishing foods fuel natural energy, buffer minerals and help body recognize nutrients as food for greater digestion.*
Absorption-Enhanced whole body calcium system formulated with magnesium to support bone and muscle health.* Nutritional cofactors such as 500IU D2, Betaine HCL, Nettles and Horsetail.
Science-Safe-with a balanced nutrient profile based on medical research, also featuring nettles and horsetail to support the action of the formula.