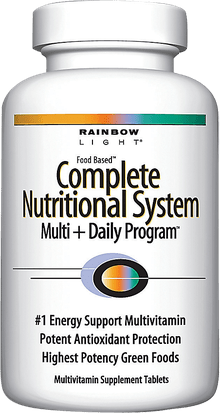 Rainbow Light Complete Nutritional System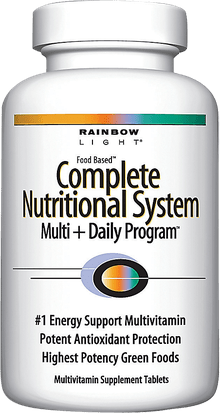 Rainbow Light Complete Nutritional System
Complete Nutritional System Overview

For those who want healthy, natural energy support, Complete Nutritional System from Rainbow Light is just what you're looking for. It's rich in B Vitamins, which support metabolism of carbohydrates, and it's loaded with other vitamins and minerals. This multi also provides powerful antioxidant protection.

The real power of this formula is Green power, extremely potent green foods. Each serving provides over 1,100 mg of nutrient dense green foods. Real food provides nutrients and health benefits that plain vitamins and minerals don't. So, for complete energy and health support, choose Complete Nutrition System.
Complete Nutritional System Description from Rainbow Light
Ultra-potent, complete multivitamin with green foods to energize, nourish and aid digestion
Whole-body protection, with comprehensive, easily absorbed vitamins and minerals in optimal potencies, plus over 2,000 mg of foods and herbs for a natural energy boost. Plant-source enzymes for easy, gentle digestion.
Complete, whole-body nutrition: heart, brain, bone, immune & sexual health: Ultra-potency vitamins & minerals, antioxidants, protective phyto-nutrient foods
Steady, natural, stimulant-free energy: B-complex vitamins, 1,100+ mg green foods, Energizing Herbal Blend
Food-based antioxidant protection: Antioxidant Fruit Blend, Vegetable Juice Extracts
Easy to Digest: can be taken on an empty stomach
Supplement Facts
Serving Size: 3 Tablets
Servings Per Container: 60
Ingredient
Amount
% Daily Value**
Vitamin A (as Beta-carotene, Palmitate)
10000IU
200
Vitamin C (as 50% Calcium Ascorbate, 50% Ascorbic Acid)
1000mg
1667
Vitamin D (as D3 Cholecalciferol)
400IU
100
Vitamin E (as d-alpha Tocopheryl)
30IU
100
Vitamin B-1 (as Thiamin Mononitrate)
30mg
2000
Riboflavin (Vitamin B-2)
34mg
2000
Niacin: Niacinamide 1:1
60mg
300
Vitamin B-6 (as Pyridoxine)
40mg
2000
Folic Acid
400mcg
100
Vitamin B-12 (as Cyanocobalamin)
200mcg
3333
Biotin
100mcg
33
Vitamin B-5 (as Calcium Pantothenate)
60mg
600
Calcium (as Carbonate, Ascorbate, Amino Acid Chelate)
250mg
25
Magnesium (as Oxide, Amino Acid Chelate)
125mg
31
Iron (as Amino Acid Chelate)
18mg
100
Iodine (from Kelp)
150mcg
100
Zinc (as Amino Acid Chelate)
15mg
100
Selenium (as Selenomethionine)
100mcg
143
Copper (as Amino Acid Chelate)
200mcg
10
Manganese (as Amino Acid Chelate)
2.5mg
125
Chromium (as Amino Acid Nicotinate)
100mcg
83
Potassium (as Citrate)
40mg
1
Citrus Bioflavonoid Complex
100mg
†
Rutin
50mg
†
Hesperidin
10mg
†
Choline (as Bitartrate)
30mg
†
Inositol
50mg
†
PABA (para-Aminobenzoic Acid)
30mg
†
Protective Phyto-Nutrient Foods
1138mg
†
-Organic Spirulina, Chlorella, Kelp, Chlorophyll, Octacosanol (from spinach)
4:1 Vegetable Juice Extract
66mg
†
-(equivalent to 264 mg of vegetable powder) Kale, Spinach, Dandelion Greens, Beet, Alfalfa
-Broccoli Powder
50mg
†
-Sulforaphane
50mcg
†
4:1 Antioxidant Fruit Blend
60mg
†
-(equivalent to 240 mg of fruit powder) Elderberry, Bilberry, Blueberry, Grape, Rose Hip, Acerola
-Cranberry
4:1 Energizing Herbal Blend
60mg
†
-(equivalent to 420 mg of herbal powder) Eleuthero [root], Fo-Ti [root], Stinging Nettle [tops]
-Schisandra [fruit], Fennel [seed], Ginger [rhizome], Licorice [root]
Digestive Support Complex
115mg
†
-Protease
1804HUT
-Amylase
141DU
-Lipase
2FIP
-Cellulase
2CU
-Papain
90000PU
-Betaine HCI
60mg
** Percent Daily Value is based on a 2000 calorie diet. Your daily values may be higher or lower depending on your calorie needs.
† Daily Value not established.

Ingredients:
Other Ingredients (natural mineral or vegetable source): modified cellulose, stearic acid, silica. Coating: Vegetable food glaze (dextrin, dextrose, soy lecithin, carboxy methyl cellulose, sodium citrate).
Manufacturer's Directions
3 tablets daily, with or between meals.
Manufacturer's Disclaimer
Accidental overdose of iron-containing products is a leading cause of fatal poisoning in children under 6. Keep this product out of reach of children. In case of accidental overdose, call a doctor or poison control center immediately.

Consult your health care professional prior to use if you are pregnant, nursing, have a medical condition or are taking medication.