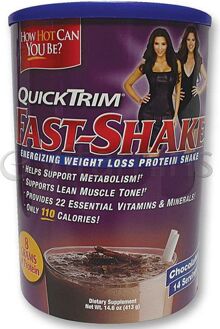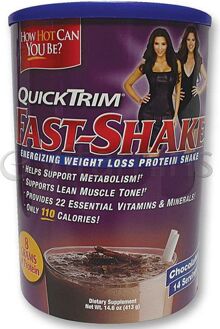 UPC: 035046073701
Total Weight: 1.64 lbs (0.74 kg)
Package Format: 14 oz



Energizing Weight Loss Protein Shake

If you have not yet heard of QuickTrim Fast Shake, the BRAND NEW line of weight loss products that is sweeping the nation, then today is your lucky day! The QuickTrim Fast Shake line is being endorsed by the uber-famous Kardasian sisters, Kim and Chloe. Before you discount this product as just another fad being pushed by celebrities for a paycheck you should know that the Kardashian woman have been offered numerous endorsement deals and would not attach their names to any such products until they were 100 percent sure that the product that they were promoting was safe, and even more important, worked. That is where QuickTrim Fast Shake stepped in. After years of intense research and development the good folks at QuickTrim have come up with a product that is truly amazing. If you are a fan of the hit series Keeping Up With The Kardashians then you are all too familiar with the phenomenal transformation that Chloe Kardashian has undergone in regard to her weight loss battle over just a few short months. Those results can be directly attributed to the use of the QuickTrim line of products. You don't have to have a red carpet event coming up to get your body into red carpet shape. If you have a special event coming up, maybe a wedding or vacation and need to be looking your absolute best in a short time then the answer is right here - QuickTrim Fast Shake.

QuickTrim Fast-Shake is designed to provide the crucial nutrition that may be lacking while dieting, as well as increase your energy levels. All the while keeping you satisfied until your next meal. This amazingly delicious drink is a state-of-the-art formula which provides vital nutrition to assist in achieving your healthy weight loss goals. This high protein, high fiber, energy packed formula supplies more than 100 vitamins, minerals, antioxidants, whole food nutrients, probiotics and macro nutrients that you cannot find anywhere else.
Helps Support Metabolism
Supports Lean Muscle Tone
Provides 22 Essential Vitamins & Minerals
Only 110 Calories
QuickTrim Fast Shake can be used as a complete meal or a nutritious energizing snack! This delicious drink can be mixed with water or low fat milk. Fast-Shake can help support healthy weight loss while promoting lean muscle tissue. Unlike other leading brands, QuickTrim Fast Shake's low glycemic formula helps satisfy your hunger without sacrificing healthy metabolism. So help support your body's nutritional needs with a delicious, satisfying, complete meal-to-go with the QuickTrim Fast Shake. Weight loss secrets are just not for Hollywood's elite anymore. Get your QuickTrim Fast Shake today and be red carpet ready before you know it!
Notes:
Lose The Fat... Keep The Muscle!
Great Source of Natural Fiber to Promote Regularity
Contains Protein to Support Healthy Muscle tone
Over 100 Healthy Nutrients to Provide Complete Nutritional Support
Green Tea EGCG to Support Healthy Metabolism
All QuickTrim products have been synergistically designed to work in conjunction with each other to compliment your lifestyle and provide rapid results with simplified solutuions to help you get the body you want! Whether you are seeking to shed a few vanity pounds, drop a dress size for a special occasion or are seeking a long term lifestyle program, QuickTrim formula's are your slimming solutions.

Made in the U.S.A..

Recommended Use: Mix one scoop with 8 oz of cold water or low fat milk. For a delicious treat mix in a blender with ice or your favorite fruit or fruit juice for a delicious smoothie.

Disclaimer: Actual product packaging and materials may contain more and different information than what is shown on our website. We recommend that you do not rely solely on the information presented and that you always read labels, warnings, and directions before using or consuming a product. Please see our full disclaimer below.