Quick Links to Best Prices Price History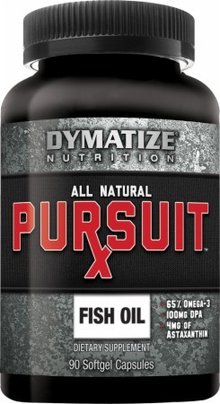 There's No Better Training Partner!
Uncompromising Performance:
Pursuit Rx is the only concentrated fish oil that combines EPA, DPA and Astaxanthin to support circulation during training as well as recovery from strenuous workouts.* Odorless, with lemon oil added, this product won't cause "fish burps".*
Uncompromising Strength:
This product contains over 1,200mg of Omega-3s per serving, including concentrated EPA and DHA, as well as the breakthrough Omega-3, DPA, which recent research suggests may support a healthy inflammation response to working out.* With 4mg of Astaxanthin, Vitamins D3 and E, Pursuit Rx Fish Oil is the standard-bearer for athlete-focused fish oil.
Uncompromising Purity:
Each production lot is tested and validated for the highest level of purity possible. Pursuit Rx Fish Oil has certified sustainability with Friend of the Sea© and has traceability back to the point of catch in the Atlantic Ocean.*
---
This is What Performance Tastes Like
Introducing new, all natural Pursuit Rx, a line of sports nutritional supplements as hardworking and clean as you are. Developed by a team of nutrition experts with over 50 years of experience, these proven products were made using the most up-to-date nutritional science.*