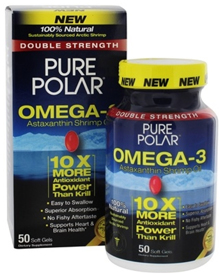 Pure Polar Omega-3 Shrimp Oil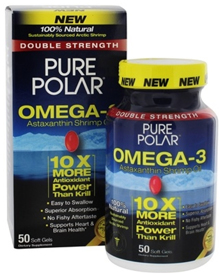 Pure Polar Omega-3 Shrimp Oil
Pure Polar Labs has developed the World's 1st Omega-3 Astaxanthin Shrimp Oil products. Shrimp oil is made from the LEFTOVER SHELLS from shrimp processors in Newfoundland, Canada. The shrimp are originally caught in a SUSTAINABLY MANAGED fishery in the North Atlantic Ocean. Shrimp oil is the new, superior omega-3 astaxanthin product on the market with more omega-3s and more antioxidants than traditional krill oil and fish oil.
Pure Polar is formulated by a team of scientists and medical doctor. Our products combine the unique benefits of shrimp oil with sustainably sourced premium grade fish oil and krill oil in order to deliver maximum health benefits from all those ingredients.
10X More Astaxanthin than Krill Oil Formulas2X More Omega 3 than Krill Oil FormulasSuperior Nutrient AbsorptionEasy to Swallow SoftgelsNo Fishy Aftertaste or Burps100% Natural and Sustainably Sourced These statements have not been evaluated by the Food and Drug Administration. This product is not intended to diagnose, treat, cure, or prevent any disease.