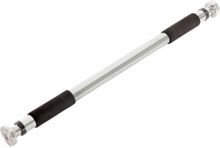 ProSource Easy Gym Lite Chin Up Bar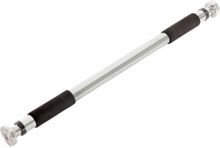 ProSource Easy Gym Lite Chin Up Bar
Practice your pull-ups and improve your upper body strength with this convenient and adjustable doorway pull-up bar. The simple, portable design allows you to workout in the comfort and privacy of your own home. Fit in a quick and effective workout anytime!
Easily mount in any standard doorway for pull-ups and chin-ups, or low as an anchor for sit-ups and core strengthening. Two soft foam grips provide a comfortable place for your hands to prevent pain and callouses and reduce slipping. The 24-inch adjustable Pull-Up Bar can hold up to 220 lb., and includes all necessary mounting hardware. An excellent workout accessory for entire upper body conditioning.
Features
Works well with popular DVD workout programs
Lightweight and portable
Adjusts to fit any doorframe between 25" to 39"; extends from 24"
Heavy duty construction with 2 cushioned foam grips
Supports weight up to 220 lb.