Quick Links to Best Prices Price History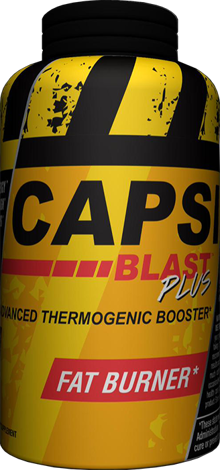 Product Description

Details : Capsi Blast Plus
Capsi Blast Plus. Advanced Thermogenic Booster. Fat Burner. 72 Capsules. What is Capsi Blast, Capsi Blast features a highly concentrated red pepper beadlet technology designed to help deliver maximum fat burning benefits without stomach discomfort. Capsi Blast offers a natural alternative to over-stimulated fat burners. INGREDIENTS IN CAPSI BLAST MAY HELP SUPPORT: Thermogenesis border-collapse:collapse; width:320px'>
Nutrition Facts
Serving Size : 2 Capsules
Servings Per Container : 36
Amount Per Serving
Serving
% Daily Value
Niacin
30.0 mg
150%
Folate (Folic Acid)
200.0 mg
50%
Evodiamine
20.0 mg
-
Vitamin B12 (as Methylcobalamin)
60.0 mcg
1000%
Chromium (as TRAACS chromium nicotinate glycinate chelate)
48.0 mcg
40%
Capsi Blend
992.0 mg
-
Proprietary Blends
Capsi Blend
Beta-Alanine, Caffeine Anhydrous (100mg), Red Pepper Fruit Capsicum Fruit Extract at 2% Capsaicinoids (Capsimax), Black Pepper Fruit Extract yeilding 95% Piperine (BioPerine).