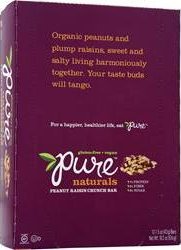 Promax Pure Bars - Natural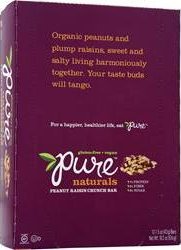 Promax Pure Bars - Natural
Product Information
Pure Naturals Bar (12)
Pure's dedication to delicious, simple, clean nutrition continues with our innovative new line of all-natural, vegan and gluten-free fruit and nut bars. Pure Naturals come in an array of succulent flavors and are packed with 5-7 grams of protein and 5 grams of fiber. Dive in to a thrilling new combination of nutrition and taste!1

Directions: Use as needed for a healthy, natural snack full of protein and fiber.

Ingredients: Almonds, Brown Rice Syrup, Organic Peanuts, Cranberries (Cranberries, Apple Juice Concentrate, Sunflower Oil), Sunflower Seeds, Organic Tapioca Syrup, Blueberries (Blueberries, Apple Juice Concentrate, Sunflower Oil), Organic Agave Fiber, Organic Rice Protein Concentrate, Pomegranate, Chia Seeds, Coconut Oil, Salt, Water. That's all!

Note: Ingredients and Nutrition Data are for the Superfruit Nutty Crunch flavor. Other flavors may vary.
These statements have not been evaluated by the Food and Drug Administration. This product is not intended to diagnose, treat, cure, or prevent any disease.
1: Individual results may vary. Reviews are based on the experiences of a few people and you may not have similar results.