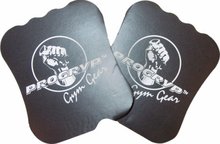 Progryp Paw Sponge Hand Grips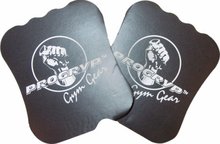 Progryp Paw Sponge Hand Grips
Molds To Your Hands To Maximize Your Workout And Grip!
Description:
Progryp Paw Sponge Hand Grips are a high density pressure absorbing 1/2" thick specially designed sponge rubber that provides the highest degree of comfort and cushioning.
Special 1/2" thick material is designed for the bodybuilder or weightlifter in mind
Molds to every crack and crevice of the hand for a totally customized fit
Designed to squeeze right down to the bar (for those lifters who like the feeling of the bar) to provide an extraordinarily strong grip as compared to bare hands or gloves
Extremely grippy anti-slip surface
Withstands the toughest workouts
Quick absorption and evaporation of moisture, providing a much safer textured gripping surface
Bacteria and Fungus resistant surface, provides a hygienic odor free workout
Excellent for all bars
Increases comfort to such a high degree, that the amount of reps per set can be increased
Maximizes your workout!