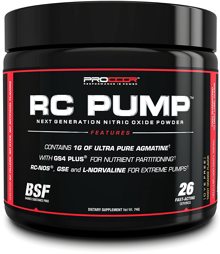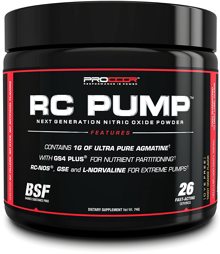 The Future Of The Pump Begins Right Now!
• Long Lasting, Intense Pumps and Muscle Volume
• Increased Nutrient and Oxygen Delivery
• Enhanced Nutrient Partitioning
RC PUMP is not simply another nitric oxide booster; it's also a powerful nutrient partitioning agent. This means that RC PUMPdrives glucose into your muscles, adding to the full, pumped look; this also has the benefit of helping to control blood sugar levels. Additionally, the increased blood flow caused by RC PUMP enhances nutrient delivery by transporting the nutrients you need to your muscles when you need them. You'll not only get an amazing, extended pump with RC PUMP, you'll also experience enhanced recovery, faster muscle growth, and muscle saturation of the nutrients in our potent "PUMP" formula!
The Pump
Arginine has become outdated as a N.O. booster with the advent of such powerful compounds as Agmatine. Very effective in smaller amounts, Agmatine creates extended pumps that are more intense that any pump you can possibly get from Arginine.
L-Norvaline – This is a powerful inhibitor of agrinase, which is an enzyme involved in the Urea Cycle. Blocking arginase promotes greater nitric oxide production which of course leads to a greater pump, increased oxygen delivery and enhanced nutrient delivery.
Nutrient Partitioning
This exclusive compound is a manufactured by the Sabinsa Corporation and is actually extracted from Gymnema Sylvestre (75%) and promotes regulation of blood sugar levels. When taken before a meal high in carbs, this nutrient partitioning compound spares the storage of the carbs as fat and instead stores them as glycogen - this means more cellular energy and a greater "pump" during your training sessions.
Lactic Acid Buffering
RC NOS - This is known as Rutaecarpine and has been clinically documented to promote nutrient and oxygen delivery, as well as possess cognitive properties and lactic acid buffering effects.
Super-Absorption
BioPerine (95%) – The absorption of the nutrients in RC PUMP is greatly enhanced by the increased blood flow brought about by greater N.O. levels. We've gone one step farther and included the potent absorption enhancer BioPerine to dramatically increase the absorption of the compounds in RC PUMP for even greater effects.
RC PUMP by PROCCOR – This is The Ultimate Pump and Nutrient Partitioning Formula!
100% LABEL CLAIM GUARANTEE:
When you purchase a PROCCOR product you can be sure you are buying a premium quality supplement. Every PROCCOR product is manufactured in a state-of-the-art cGMP, NSF, FDA Registered facility under pharmaceutical grade processing. Every product we make must undergo a series of tests before we release it. Every raw material we use is quarantined and HPLC/USP/3rd PARTY tested for accuracy, purity, and metals. We then use what is known as an "intentional overage" where we add an overage of 1-5%, depending on the ingredient, intentionally, to guarantee our products will meet 100% label claims even after the contents have settled. Then and only then do we make the products available to the consumer.

Supplement Facts
Serving Size: 1 Scoop (2.83 Grams) 
Servings Per Container: 26 
 
Amount Per Serving 
 
Total Calories - 0 
Total Fat - 0 Grams 
Total Carbohydrates - 0 Grams 
Sugars - 0 Grams 
Vitamin B12 - 200 mcg 
 
Ultra Pure Agmatine Sulfate 
Agmatine Sulfate - 1000 mg 
 
Vasodilation Blend 
L-Norvaline - 200mg 
Grape Seed Extract - 150 mg 
 
CarbDrive Nutrient Partition Support 
GS4 PLUS - 100 mg 
 
RC NOS - 35 mg 
 
Absorption Enhancer 
Bioperine - 6 mg 
 
Other Ingredients: 
Natural flavor, Citric acid, Beta carotene (Natural color) Sucralose

Directions
To use: Mix 1 serving with 8 oz. cold water and consume 20- 30 minutes before your workout. A second serving can be taken during your workout as desired. On off-days, consume 1 serving 2 hours after breakfast. This product may be stacked with other Proccor products as desired.

Warnings
Discuss with your physician before taking if you have a medical condition or are taking any prescription medications. Stop use and discuss with your physician if any negative effects occur. Do not exceed suggested dose. Do not take if pregnant or lactating. Must be 18 years old to use this product.  Keep away from children. Store in a cool, dry place.