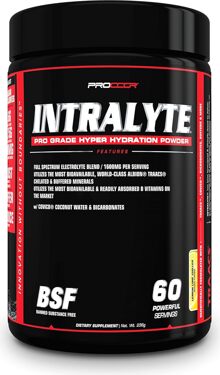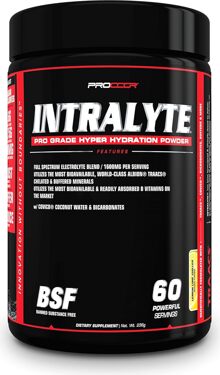 Ultra Fatigue Fighter & Re-Hydrating Complex!
• Promotes Complete Hydration
• Restores the Body's Fluid Balance
• Reduces the Buildup of Lactic Acid
Staying hydrated and maintaining a proper electrolyte balance can be the difference between success and failure on the field or in the gym. If you aren't properly hydrated, your body will be unable to perform at its highest level. Electrolytes, which are minerals and salts such as sodium chloride, potassium, calcium, and sodium bicarbonate that are able to conduct electrical impulses, control the fluid balance of the body, and are important in virtually all of the body's major biochemical reactions. For example, for a muscle contraction to take place, calcium (Ca2+), sodium (Na+) and potassium (K+) must all be present.
When you're training intensely or preparing for your event, don't reach for a sugary "sports drink", reach instead for a complete hydration and electrolyte powder that will optimize your performance.
Intralyte by Proccor is the perfect choice – it's a super hydration/electrolyte powder that contains fatigue buffers, lactic acid buffers and Albion TRAACS Chelated Minerals
The problem with most electrolyte drinks is that the majority of them do not provide enough electrolytes on a per serving basis to provide adequate fluid replenishment and promote maximum performance. Also, they are usually poor quality and contain artificial colors, flavors and fillers. Intralyte contains zero fillers, no artificial colors and no artificial flavors of any kind!
Albion TRAACS Minerals
These are the most bio-available and well-researched minerals available. The process of chelation allows the minerals to bypass the stomach and go straight to the small intestines for complete absorption.
Electrolytes
One scoop of Intralyte supplies 1.1 grams of Electrolytes and Minerals to provide the hydration you need to perform at your best.
Lactic Acid Buffers and Fatigue Fighters
Citric Acid is primarily included in the Intralyte formula is because it can increase performance while reducing fatigue. Citric acid is part of the Krebs cycle and can reduce the buildup of lactic acid which leads to improved endurance and performance.
BiCarbones are included for a very specific reason - when you train, the H+ (hydrogen ion) levels in the body increase, which means performance drops because your internal environment becomes more acidic. BiCarbones have been proven to buffer lactic acid, and change the internal environment of the body back to a more alkaline, or less acidic, state. This means you can train longer and harder.
So when you're ready to hit the gym, prepare for your event, or go out on the field, don't settle for anything less than the best hydration/electrolyte formula on the market - Intralyte by Proccor!
100% LABEL CLAIM GUARANTEE:
When you purchase a PROCCOR product you can be sure you are buying a premium quality supplement. Every PROCCOR product is manufactured in a state-of-the-art cGMP, NSF, FDA Registered facility under pharmaceutical grade processing. Every product we make must undergo a series of tests before we release it. Every raw material we use is quarantined and HPLC/USP/3rd PARTY tested for accuracy, purity, and metals. We then use what is known as an "intentional overage" where we add an overage of 1-5%, depending on the ingredient, intentionally, to guarantee our products will meet 100% label claims even after the contents have settled. Then and only then do we make the products available to the consumer.

Supplement Facts
Serving Size: 1 Scoop (2.9 Grams) 
Servings Per Container: 60 
 
Amount Per Serving 
 
Total Calories - 0 
Total Fat - 0 
Cholesterol - 0 mg 
Total Carbohydrates - 0 Grams 
Sugars - 0 Grams 
Magnesium - 18 mg 
Chloride - 68 mg 
Sodium - 101 mg 
Potassium - 193 mg 
Calcium - 27 mg 
Vitamin B6 - 5 mg 
Vitamin B12 - 150 mcg 
 
Lactic Acid Buffer 
Citric Acid - 1500 mg 
 
Fatigue Buffering BiCarbonate Blend 
Potassium Bicarbonate - 350 mg 
Sodium Bicarbonate - 250 mg 
 
Buffered Mineral Drive 
Calcium Chelate - 150 mg 
Magnesium Chelate - 100 mg 
 
Direct Hydration Blend 
Potassium Chloride - 75 mg 
Potassium Phosphate - 75 mg 
Sodium Chloride - 50 mg 
Disodium Phosphate - 50 mg 
 
Other Ingredients: 
Natural Flavor, Sucralose

Directions
To use: Mix 2 servings with 16oz. cold water and consume 15 minutes before and during your workout or event.

Warnings
Discuss with your physician before taking if you have a medical condition or are taking any prescription medications. Stop use and discuss with your physician if any negative effects occur. Do not exceed suggested dose. Do not take if pregnant or lactating. Must be 18 years old to use this product.  Keep away from children. Store in a cool, dry place.