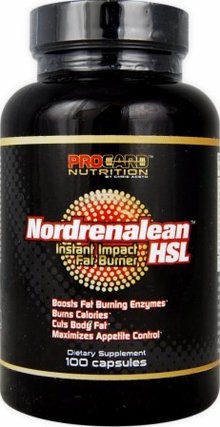 ProCard Nutrition Nordrenalean HSL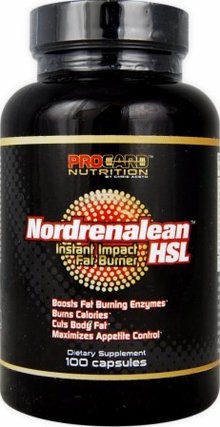 ProCard Nutrition Nordrenalean HSL
From the Desk of Chris Aceto
Nordrenalean HSL: The Diet Fix
Two big truths with dieting. 1) To get leaner you have to eat fewer calories. 2) Every diet fails. You know it, because you´ve been there. You start a diet, slash your calories and start to get lean only to run smack into a roadblock, unable to lose additional body fat. Frustrated, you ponder "what else" you can do to kick start the fat burning process. If cutting calories or carbs worked before, it must be the answer; so you drop further back on your calories and carbs and low and behold, you look somewhat leaner. Problem is, for how hard you have been dieting you really should be a heck of a lot leaner! Yet, you remain unable to reach your goal. You have a ways to go to be considered really lean and are miles away from being ripped-to-the-bone. What gives? It´s called metabolic adaptation. Your metabolism, the body´s complex calorie burning engine, has adjusted to a lower caloric intake. Unfortunately, that´s how the body works. It doesn´t want to be lean, it rather be a little bit soft. So, when you try to burn body fat by eating less, the body throws its calorie burning engine, into a lower gear. Bottom line; often bodybuilders eat less, but fail to get a lot leaner. In response to eating less, the body fights back by burning fewer calories. Bad news, but it gets better.
Knowing the complexities of a stubborn metabolism, I developed Nodrenalean HSL to fight the metabolic downshifting that frustrates dieters and pre contest bodybuilders.* The ingredients found in Nordrenalean HSL are designed to interfere with the negative and frustrating metabolic drops on several levels.*
First, it increases the metabolism by directly and aggressively impacting thermogenesis.* Theromogenesis helps determine whether your body is efficient (Re; "good") at storing calories as body fat or inefficient (Re: "bad") at storing calories as body fat. Bodybuilders who seem to stay lean no matter what they eat are inefficient or "bad" at storing calories as body fat and it turns out, thermogenic factors in their body are far more active compared to the bodybuilder or individual who struggles to stay lean or finds it tremendously challenging to lose unwanted body fat. If you want to get lean, you have to become "bad" at storing calories as body fat and that´s precisely what Nordrelean HSL is designed to do.
Nordrenelean also supports thyroid activity the hormone that acts as the "gas" for the overall metabolism.* When thyroid levels rise, calorie burning rises and when thyroid activity dives, calorie burning takes a hit. Guess what causes thyroid activity to decline? Dieting! When you eat less, thyroid activity tumbles and Noradrenalean HSL contains specific ingredients to combat that decline.* First it helps keep the total amount of thyroid levels in the body from dropping.* With dieting, often overall thyroid output, falls which, in turn, makes it harder to get leaner. The longer you diet, the more susceptible the thyroid is to decreasing its total output. That´s precisely what happened to one of my clients. He competed in a Big Pro Show, won it, and found it tough to get in shape a few months later for another important contest. Turns out, because he had been dieting for a long period of time, his thyroid level, the total amount of thyroid hormone his body was secreting, had fallen and become suppressed. It was the thyroid´s way of hunkering down and saying "Hey enough dieting! Your body fat stores want to bounce back!" I told him not to worry and gave him the forerunner to what is now Nordrenalean HSL. Within 10 days, he was back on track and dropping fat on a weekly basis.* The other "thyroid conundrum" Nordrenalean HSL tackles is the conversion rate of T4 into T3. Turns out there are two types of calorie burning thyroid hormones in the body. One is called T4 and the other T3. T3 is radically more affective in burning calories then T4 so, in theory, you would want plenty of T3 in the body. One big problem with dieting; the more strict you diet, the longer you diet and the leaner you get, the more difficult it becomes to convert T4 into T3! I´ve tackled that problem with specific nutrients and herbs that actually facilitate the conversion of T4 into T3 so you can continue to keep the metabolism "running", while keeping calories lower to create a calorie shortfall.
Finally, Nodrenalean HSL impacts Hormone Sensetive Lipase levels, a sort of "gatekeeper" that signals fat cells to allow energy- stored body fat- to flow out of fat reserves so body fat can be burned as fuel.* A lower calorie intake, decreasing carbohydrate consumption, hardcore weight training, cardio and specific combos of herbs can kick up hormone sensitive lipase levels.