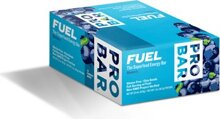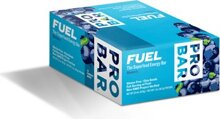 fruition is a fruit-based superfood snack bar designed to be satisfying on-the-go without the extra fat and calories. Fruition is the marriage of oats, chia seeds, and cashews in 4 mouth-watering real fruit flavors. With superb fruit flavors, robust texture and blend of organic ingredients, fruition is Simply Real.
Two servings of fruit in every bar
Snack Size: 160 calories per bar
4 grams of fiber, 2 grams of fat
Certified Organic by QAI
Omegas from Chia Seeds
A mouthful of the fruition™ Blueberry bar is almost Wonka-esque with its bursting fruit flavors, scrumptious cashews and Omega-rich Chia seeds.
Blueberry is
Real fruit in every bar
4 grams of fiber, 2 grams of fat
Certified Organic by QAI
Snack size with only 160 calories
Unique Ingredients
Blueberries, Dates, Chia Seeds, Oats
Food for Thought
How does fruition differ from our whole meal replacement bar?
PROBAR customers love meal replacement but they need high-energy snack food too. After many requests for a snack size bar, fruition was born. At 1.7 ounces and 160 calories fruition delivers the great flavors of unprocessed, organic whole foods that have become the benchmark of all PROBAR products. Additionally, fruition is fruit based while PROBAR meal replacement bars are a distinct blend of nuts and seeds.
How is fruition different from other snack bars?
The difference is in the ingredients. fruition is power packed with natural antioxidants provided directly from the various fruits and chia seeds blended into the bar. By adding organic oats and cashews we are able to provide 4 grams of fiber. The added fiber minimizes the glycemic impact from the natural sugars found in the fruit and grain sweetener. The complex carbohydrates that are derived from the various ingredients promote sustained, natural energy and provide for a more satisfying snack.*
What are chia seeds?
Chia seeds are an ancient, high-energy food indigenous to North, Central and South America. A member of the Salvia family, chia has been used as a superfood by Native Americans for centuries. Nutrient dense and loaded with essential fatty acids, chia seeds deliver a wealth of nutrients in a small package.
What are some additional benefits from Chia seeds?
Chia Seeds have the highest known whole-food source of Omega-3 acids. Chia seeds may also help maintain the body's electrolyte balance by retaining moisture, regulating more efficiently, and controlling the absorption of nutrients and body fluids.* In addition, chia is also a complete source of protein providing all of the essential amino acids.
How does the fruition bar achieve such excellent shelf life without preservatives?
fruition bars are loaded with organic and all natural ingredients. The fruits used in each bar are naturally high in antioxidants, which aid in preservation. Vitamin E, ascorbic and citric acids, also included in the bar, function as excellent natural preservatives.
Why brown rice syrup?
fruition bars include organic brown rice syrup as a sweetener simply because grain based sweeteners release glucose into the blood stream much slower than conventional sugars, thus promoting balanced energy levels. The carbohydrates found in a fruition.*
Are fruition Bars good for me?
In a word, Absolutely! PROBAR is known for great tasting food that is simply real™. fruition bars build on that tradition by delivering delicious on-the-go, whole food nutrition. Each fruition bar contains 2 servings of antioxidant-rich fruit, healthy Omega-3 from chia Seed, 4 grams of fiber and 160 calories in an easy to grab package.
As with the PROBAR whole meal replacement bars, fruition does not contain any trans fats, artificial preservatives, colors and is 100% Vegan. By sticking to PROBAR's high standards of quality ingredients you can feel confident fruition is one snack bar you can feel good about eating!