Quick Links to Best Prices Price History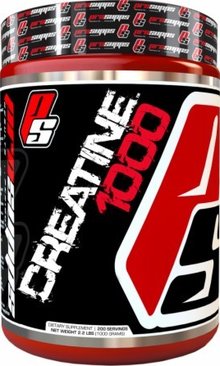 creatine 300
100% scientific grade
PROMOTE MUSCLE GROWTH*
SUPPORTS ANAEROBIC ACTIVITY*
5 GRAMS OF CREATINE PER SERVING*
WHAT IS CREATINE 300?
ProSupps Creatine 300 is 100% Pure, Scientific Grade Creatine Monohydrate. Creatine Monohydrate is suggested to be the most efficacious form of creatine available to athletes and sports enthusiasts.*
Support Muscle Fiber Size/Hypertrophy*
Support Muscular Contraction, thus Increasing Strength Gains and Muscular Volumization*
Enhance Muscle Recovery*
Promote Anaerobic Activity*
FREQUENTLY ASKED QUESTIONS
Q. Why take Creatine 300?
Creatine monohydrate supports muscular energy and endurance so it's a great addition for all types of athletes.
Q. Can I mix Creatine 300 with my protein?
Yes, Creatine 300 is unflavored too so it mixes unnoticeably.
Q. Should I cycle Creatine 300?
Yes, it is recommended to cycle creatine with the following protocol:
Creatine Loading Phase:
For 3 days take 4 servings/scoops (5g) spaced out during the day for a total of 20 grams daily.
Maintenance Phase:
Following the loading phase take 5 grams daily for 8 weeks.
Off-Cycle:
After 8 weeks on cycle, take 4 weeks off with no creatine supplementation, then begin on cycle again with loading cycle followed by maintenance cycle.
Q. Can women take Creatine 300 and not bloat?
The answer is YES and the bloating does not come from the creatine itself and typically comes from the "Other" beverages that are consumed with creatine.