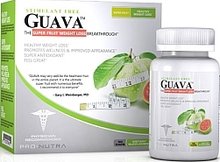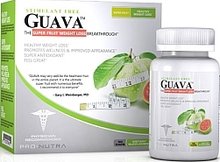 The Super Fruit Weight Loss Breakthough, Stimulant Free
Healthy Weight Loss
Promotes Wellness and Improved Appearance
Super Antioxidant
Feel Great
Physician Recommended
HEALTHY WEIGHT LOSS - The nutrient composition and bio-activity of the Guava fruit support the notion that it is beneficial for regulation of metabolic processes, including energy metabolism, insulin sensitivity, and down-regulation of oxidative stress related fat accumulation.
SUPER ANTIOXIDANT- The antioxidant activity of Guava fruit is virtually unrivaled with more than 3.5x greater activity than Pomegranate, 4x greater activity than Apples, more than 16.5x greater activity than Banana, and more than 22x greater activity than Pineapple, by way of example.
PROMOTES WELLNESS & IMPROVED APPEARANCE - Emerging research shows that the Guava fruit is a true "Super Fruit", the ultimate "Super Fruit", in fact, with a nutrient composition and bio-activity that is unrivaled by nutritional stalwarts Mango, Apple, Pomegranate, Banana, Watermelon, Grape, Pineapple, etc., for supporting health and wellness.
FEEL GREAT - Proper nutrition is a major factor in how one feels, and Guava fruit delivers more milligram-for-milligram nutrition and antioxidant capability than virtually any other "Super Fruit" or "Super Food".
"GUAVA may very well be the healthiest fruit on the entire planet. It is the ultimate super fruit with endless benefits. I recommend it to everyone"-
Gary I. Weinberger, MD
Some of the Benefits of Guava include Supporting Healthy Weight Loss, Antioxidant Properties (ORAC Values), Skin Care and when used as part of your Diet may Promote Healthy Blood Sugar Levels. Based on comparative ABTS standard radical in-vitro model, Guava Ext. exerts comparative antioxidant activity as compared to Green Tea Ext., suggesting that Guava Ext. is highly bio-active with potential general health and wellness, and weight management indications, as is the case with Green Tea Ext.
Guava Extract - Guava fruit delivers more milligram-for-milligram nutrition and antioxidant capability than virtually any other "Super Fruit" or "Super Food".
Raspberry Ketones - Raspberry ketone is a major aromatic compound of red raspberry (Rubus idaeus) and is similar in structure to the two well-known weight management agents, capsaicin and synephrine. Scientific evidence indicates raspberry ketone may enhance energy metabolism and reduce both fat and sugar induced weight gain
Saffron Extract - This standardized saffron extract provides support for healthy body weight by targeting some of the emotional factors that make you eat more when you're trying to eat less.
Blueberry Extract- Blueberries have one of the highest oxygen radical absorbance capacities (ORAC) levels of all fruits and vegetables. Consumption of blueberries may help improve mild memory problems associated with aging. Blueberries are a natural source of vitamin C and specific polyphenols that make blueberries near the top when it comes to antioxidant activity per serving.
For Maxium Results Combine With: Methoxyburn - 1 capsule in the morning and 1 capsule in the afternoon or GRPG - 1 capsule 1 hour prior to bedtime.
* These statements have not been evaluated by the Food and Drug Administration. This product is not intended to diagnose, treat, cure, or prevent any disease.