Warning: This product is not currently available at any store.
Click the button above and PricePlow will email you when the first store has it in stock!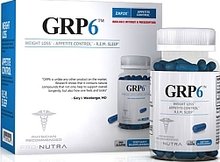 Weight Loss
Appetite Control
R.E.M. Sleep
Multi-Phase Delivery System, ZAP2x and Appetite Control – Available Without a Prescription, Physician Recommended"GRP6 is unlike any other product on the market. Research shows that it contains natural compounds that not only help to support overall longevity, but also how one feels and looks" -
Gary I. Weinberger, MD
WEIGHT LOSS - Helps to regulate brain neuro-chemicals involved in appetite and caloric intake, which promotes normalized weight and healthy appearance.
APPETITE CONTROL - Modulates the pituitary growth family, which in turn acts to enhance growth factors responsible for longevity, lean body mass, energy, appearance, performance, well-being, and weight loss.
R.E.M. SLEEP - Shown to produce a state of relaxation and enhanced sleep, while promoting wellness and enhanced metabolic rate.
Growth Factor Releasing Peptides Combined with an Advanced Appetite Control Matrix to Promote Weight Loss, Reduced Food Intake and Healthy R.E.M Sleep.
As a component constituent, compared to placebo, as shown in independent 3rd party research model
For Maximum Results Combine With: Methoxyburn - 1 capsule in the morning and 1 capsule in the afternoon or Guava Super Fruit – 1 capsule in the morning and 1 capsule in the afternoon.
* These statements have not been evaluated by the Food and Drug Administration. This product is not intended to diagnose, treat, cure, or prevent any disease.