Warning: This product is not currently available at any store.
Click the button above and PricePlow will email you when the first store has it in stock!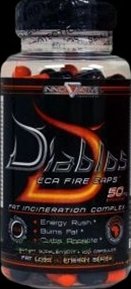 Innovative Bio-Labs Diablos 6.0 Hyperburn | On Sale Now at .com



The brilliant minds of the R & D team at Innovative Bio-Laboratorieshave raised the bar and "unleashed" the ultimate breakthrough in fatloss and energy. The newly scientifically engineered Diablos Hyperburn6.0 does what diet and exercise alone cannot do.

Diablos Hyperburn 6.0 is designed to incinerate fat by boosting yourmetabolism, heighten energy levels, improve mental focus and alertness,assist in appetite control and provide antioxidants for cellrejuvenation.

The key to the Diablos successful fat loss technology is a multiplepathway approach. Unlike many other weight loss products that try totackle fat loss through one biochemical pathway, the Diablos approachesfat loss in three different ways.

Diablos Hyperburn 6.0 ATTACKS the fat! Specially extracted alkaloidscontained in Diablos Hyperburn 6.0 increase thermogenesis and fatoxidation, even when the body is at rest. Diablos Hyperburn 6.0 goesstraight to work from the very first serving by increasing the hormonesepinephrine and norepinephrine. These hormones make quick work andimmediately increase lipolysis (the breakdown of stored fat).

Rest easy knowing that Diablos Hyperburn 6.0 not only stimulate yourbody to burn the fat you have, but also increase your calorieexpenditure providing a multi angle approach to weight loss.

Diablos Hyperburn 6.0 controls the Appetite! Controlling your appetitecan be a tricky proposition at best. Diablos Hyperburn 6.0 contains asynergistic blend of alkaloids and nutrients that delivers the potentappetite suppression you need when trying to drop those extra pounds.Diablos Hyperburn 6.0 contains the powerful active ingredient corosolicacid, a triterpenoid found in the leaves, that helps regulate bloodsugar by stimulating glucose uptake. This blood sugar lowering effectinduces glucose transport from the blood into body cells.

Diablos Hyperburn 6.0 also has the positive side effect of reducing cravings for sugary or high simple carb products.

- Increases lioplysis (fat breakdown) through enhanced dopamine concentration and thyroid output
- Stimulates the release of the main adrenal fat loss hormones epinephrine and norepinephrine
- Regulates insulin aiming the body towards using stored body fat
- Prevents the fat loss hormones from being broken down, allowing the fat loss signal to work continuously
- Enhances the fat loss signal molecule by preventing the messenger molecule cAMP from being broken down
- Effectively blocks alpha 2 receptor sites which reduces the non-estrified fatty acids as part of lioplysis
- Changes levels of neurotransmitters which creates an anorectic effect (appetite suppressing)
- Prevents the alpha adrenergic receptors from the stopping the fat loss process
- Increases the thermogenic (calorie burning) uncoupling process

These statements have not been evaluated by the Food and DrugAdministration. This product is not intended to diagnose, treat, cure,or prevent any disease.