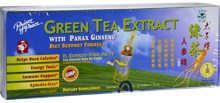 Prince of Peace Green Tea Extract with Panax Ginseng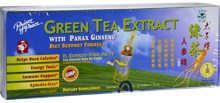 Prince of Peace Green Tea Extract with Panax Ginseng
Prince of Peace Green Tea Extract with Panax Ginseng Description
Diet Support Formula
Helps Burn Calories
Energy Tonic
Immune Support
Ephedra-Free
Oral Liquid
New Easy-to-Sip Bottle
Prince Of Peace Ent., Inc. has been a pioneer of Oriental teas in the United States for two decades. Green tea has been known for thousands for years to offer many health benefits.
Many diet formulas contain diuretic or laxative substances which can be harmful. This diet support formula does not contain any of these. Liquid formula allows for faster absorption than tablets or dry capsules.
FOR WEIGHT LOSS, Prince of Peace Green Tea Extract with Panax Ginseng is an excellent dietary supplement to accompany a healthy diet and regular exercise plan.
Green Tea Extract: contains important antioxidant and natural caffeine which promotes thermogenesis and assists in calorie burning.
Asian Red (Panax) Ginseng: traditionally taken as an energy tonic. Helps maintain energy levels while dieting. Also known for its adoptogenic properties which help support the immune system.
Directions
Take 1 bottle daily. Residue does not affect the quality of this product. Shake well before using. Insert the straw completely to drink contents.
Disclaimer These statements have not been evaluated by the FDA. These products are not intended to diagnose, treat, cure, or prevent any disease.
Supplement Facts