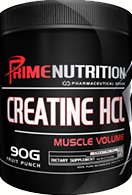 Prime Nutrition Creatine HCL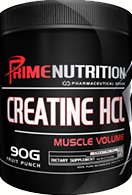 Prime Nutrition Creatine HCL
Increase Your Muscle Volume with Creatine HCL!
• Increased Size and Strength!
• Increased Energy!
• No Bloating – No Gastric Problems!
• No Loading Required!
Creatine Monohydrate has withstood the test of time and has proven to be one of, if not the, most effective supplements on the market. Two decades have passed since its introduction and no other sports nutrition ingredient has been as heavily researched. Proven to increase cellular energy as part of the ATP system, proven to increase muscle size and strength, it's hard to beat this potent supplement.
Yet, creatine does not come without its problems – which include bloating, gastric discomfort, a hefty 5 gram dose and a typical 5 day loading phase. Enter Creatine HCL – the future of creatine! This is a concentrated version of monohydrate that's much more absorbable and more soluble – no nasty side effects, no loading needed, dosing at smaller amounts – how does 1.5 grams sound?!
Creatine HCL – More Effective than Monohydrate and Easier to Use!

Supplement Facts
Serving Size: 1 Scoop 
Servings Per Container: 60 
 
Amount Per Serving 
 
Creatine HCL - 750 mg 
 
Other Ingredients: 
Citric Acid, Natural & Artifical Flavors, Sucralose, Acesulfame Potassium, Silicon Dioxide, Calcium Silicate, FD&C Red #40

Directions
Mix 1 scoop with 8oz.cold water and consume 15 minutes before your workout.

Warnings
Discuss with your physician before taking if you have a medical condition or are taking any prescription medications. Stop use and discuss with your physician if any negative effects occur. Do not exceed suggested dose. Do not take if pregnant or lactating. Must be 18 years old to use this product. Keep away from children.