Warning: This product is not currently available at any store.
Click the button above and PricePlow will email you when the first store has it in stock!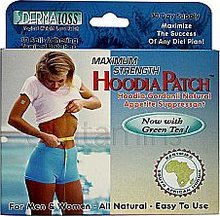 Premier Marketing Hoodia Patch
Transdermal Technology is the penetration of ingredients through the skin. The skin is the body's largest organ. Digesting pills can take hours to reach your system and can lose strength during this time. Ingredients administered through the skin are absorbed through the body immediately and evenly. Transdermal ( trans=thru, dermal=skin) or patch technology is already used for hormone replacement therapy, smoking cessation, birth control, fever relief, pain relief and body detoxification. The ease of using a patch is growing in popularity as the dosage is consistent and you only have to put one on a day and you are done. For those of you who can't seem to remember to take capsules at the right time, or you leave them at home, this is the product for you. No hassle, just put a patch on in the morning and you're done! It lasts 24 hours! Each box contains one month's supply of 30 patches. Each patch contains 500mg of Hoodia Gordonii stem and 2mg of Guarana Extract.
What is Hoodia-Gordonii?
Hoodia-Gordonii, a South African desert plant, contains a molecule that "tricks your brain into feeling full." World News Media now is focused on this natural appetite suppressant. Ideal to help stubborn weight problems. To quote Leslie Stahl of CBS "60 Minutes", "Scientists say it fools the brain by making you think you're full, even if you've eaten just a morsel!".Hoodia Gordonii is a leafless spiny succulent plant (not a cactus) with fleshly finger-like stems. Rows of thorns are present along the stems, bearing flesh coloured flowers. Hoodia Gordonii grows naturally in the harsh desert conditions of the Kalahari Desert of Southern Africa. For many generations the nomadic SAN tribe's people of the region have used the Hoodia Gordonii plant to suppress appetite and thirst during long hunting trips of several days duration. Although there are over 20 species in the Hoodia family only the Hoodia Gordonii plant contains a natural appetite suppressant. In 1937, a Dutch anthropologist visited the Kalahari and recorded the SAN tribe's people using Hoodia Gordonii as an appetite suppressant.International pharmaceutical firms did not research the plant using modern techniques until just a few years ago when it was discovered that a new, previously unknown, naturally occurring, molecule was responsible for the appetite suppressing effects of the Hoodia Gordonii plant. It was not possible to patent a naturally growing plant, so the SAN tribes people sold the 'traditional knowledge' rights to develop a drug based on the new molecule contained within Hoodia Gordonii to a UK based firm called Phytopharm. Phytopharm researched the new molecule, which they called P57, and sold the commercial development rights onto the pharmaceutical giant, Pfizer. During clinical trials of the pure dried Hoodia Gordonii powder, it was discovered that the P57 molecule could reduce the appetite by up to 2,000 calories a day. The P57 molecule within Hoodia Gordonii is almost 10,000 times stronger than glucose and works by fooling the body into believing it is full when little or no food has actually been eaten.Hoodia Gordonii is the absolute newest weight loss discovery, but the interesting thing about it is, it is not new at all! For thousands of years the San Busmen of South Africa have know about the amazing powers of this plant to suppress the appetite and stave off thirst. These primitive tribesmen used the cactus-like Hoodia plant to prevent hunger on long hunting trips when food was not always available to them. Just eating a few bites of this prickly plant made them feel full and satisfied all day.Now, the secret of Hoodia is being discovered all around the world! Even CBS, 60 Minutes has done a story on this new diet wonder. The word has now spread, allowing thousands and thousands of people to find Hoodia to be a safe, yet extremely powerful and effective appetite suppressant! The appetite suppressing power of Hoodia is giving tremendous encouragement to people who are desperately trying to lose weight.If you want to lose weight, it is really quite simple. Reduce caloric intake and increase exercise. Hoodia Gordonii can be a weapon in your arsenal in the fight to stay lean as it may help to reduce hunger cravings which will lead to less caloric intake.If you want to lose weight, any supplement that you decide to take should be accompanied by eating a sensible diet and engaging in some form of regular exercise. We believe the best regimen available is one which involves cutting out junk foods from fast-food restaurants and eating more fresh fruits and vegetables and lean cuts of meats. Cut back on your carbohydrate intake as carbs convert to sugar and into fat stores in the body. You should also consider drinking more water and one formula for determining how much to take is to take your body weight and divide it by 2 and drink that number in ounces of water each day. Example: Your weight 180 lbs / 2 = 90 ounces of water. Water will rehydrate your body, speed fat loss and flush your toxins from your system. Try walking 1-2 miles per day. This is one of the best forms of exercise available and is low impact for most people. Supplement Facts: