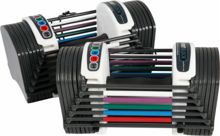 PowerBlock SportBlock 2.4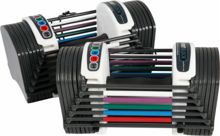 PowerBlock SportBlock 2.4
Important Shipping Information
PowerBlock SportBlock 2.4 will be shipped separately from the supplier and may take up to 5 business days for delivery. Trust us - it's worth the wait!
This stand is specifically for the Sport 5.0 or Classic 45 PowerBlocks. It is available in white (shown) or Silver. It has a foot print of 18" x 22" and a height of 25". It provides a convenient, attractive storage/racking system for your PowerBlocks. 21 lbs. Made in USA.
The Sport 2.4 equals/ replaces 8 pairs of dumbbells or 216 lbs of free weights. Weight range is 3-24 lbs per hand in 3 lb increments. Increments achieved are; 3, 6, 9, 12, 15, 18,21, and 24 lbs per hand. The Sport 2.4 cannot be further expanded.